She`s Leaving Home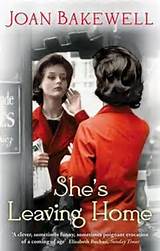 United Kingdom
April 26, 2017 5:06am CST
She`s leaving home was written by Joan Bakewell 2011. When I saw this book for sale in a used book shop , it reminded me of the song `Shes leaving home ' that was sang by The Beatles in the nineteen sixties . As I sit here writing about this book, I can hear that song in my head . I think that is what drew me to the book when I saw it for sale. JOAN BAKEWELL Until I read this book I had not read anything written by Joan Bakewell, but after reading it I have decided to look out for other books written by her because I enjoyed this one so much. THE STORY The story is about a young girl called Martha who has not long left school and is doing a course at secretarial collage. She lives in a middle class street in a nice house with her mother and her father. At sixteen she thinks her life has been mapped out for her already including a short career as a secretary and then settling down with a decent chap. It is thought that she would follow in her parents footsteps. HER MOTHER Beattie , Martha`s mother is a stay at home mother who, right from the start of the story seems to be suffering with boredom and mild depression. Beattie is hard to talk to and Martha does not really get on with her. HER FATHER Eddie, works as a projectionist in a local cinema. He enjoys his job but the times are changing and this sort of old fashioned cinema is on it`s way out. Eddie knows that changes are coming at work. CLIVE Clive is the `young man' that Martha met at the local youth club. They have been walking out for a while and everyone thinks that Clive is the one for Martha. THEN THINGS CHANGEDAfter going to a party at a neighbours house , with her parents, but without Clive, Martha meets up with a neighbours daughter who is a few years older that her , and home from university for the holiday. Through this older and more worldly girl, Martha gets to experience new things. She is introduced to new sorts of music and different sorts of people including boys. At the start of the story Martha is bored with her life . She hates secretarial college and is not enjoying her course. She is not happy at home because her mother is withdrawn and her father is always at work. She is starting to find Clive boring and clingy and she knows that she only started talking to him at youth club because she was shy and she had no one else to talk to. The only thing that she has to look forward to is going to see films at the cinema where her dad is working. She enjoys the films as a way of escaping the humdrum day to day boredom of her life. The films show her how different life could be if only she could get away. So this is what she does.
2 responses

• Los Angeles, California
27 Apr 17
I have never heard of this book. I like the cover art.

• Banks, Oregon
26 Apr 17
Sounds like a very nice story, is it a series are there more books to continue Martha's story?