Collect It!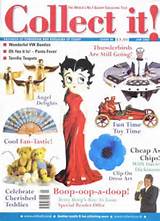 United Kingdom
April 27, 2017 3:26am CST
I first got interested in collecting antiques when a friend of mine lent me a copy of `Collect it' magazine . This was in the nineteen nineties when the magazine had just started out. It was basically a magazine on the subject of antiques and collectables , but it was a modern version of this sort of magazine. In the past , magazines on antiques were known to be a bit boring and stuffy and only of interest to people who earned a living in the antiques trade and people who were serious collectors. Collect It covered all sort of subjects including ,Vintage and Retro , modern collectables, and charity shop finds.Many readers found this magazine very appealing and easy to read. The magazine finished a few years ago and I have not found anything similar since. Another media thing that got me interested in antiques and collectables were the programmes that started being shown on television. I had not been interested in watching the Antiques Roadshow, although this programme had been on TV for decades. But as soon as the BBC started showing a lunchtime show every week day , called Bargain Hunt, I soon got hooked on the show and others like it. I soon started to watch shows like Flog It, Antiques Road trip, Put your money where your mouth is, and once I had learned a bit more about the subject I even became a Sunday night viewer of the Antiques Roadshow. I feel that I have learned a lot about the antiques and collectables trade by watching television shows and reading magazines. I have even started to build up a small collection of antiques myself. One day I would like to become an antiques dealer, buying and selling antiques for a profit. Whenever there is a local antiques fair, flea market, vintage fair etc. I am always the first at the gate to get in to see what lovely items are being sold. I hope one day to get myself a stall at one of these events or perhaps a small shop in an antiques centre.
2 responses


• Los Angeles, California
27 Apr 17
I enjoy the American version of Antiques Roadshow and American Pickers which informs a lot about collectibles.