A Misalliance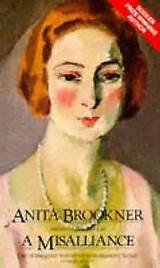 United Kingdom
April 27, 2017 7:30am CST
This book was written by Anita Brookner who is a Booker prize winning author. A Misalliance was first published in 1986 by Jonathan Cape Ltd ------------------- The Main Character is a middle aged lady called Blanche Vernon who lives by herself since her husband ran off to live with a much younger woman. Over the years, Blanche had tried to become the perfect wife and in doing this she wonders if she has lost a big part of her own personality. After her husband has left her, Blanche decides that she needs to do something with her life , but after so many years of marriage and living in her husband`s shadow, she does not know where to start. She has no children and few friends. Blanche gave up any thoughts of having a career when she married young, but she has been able to do a bit of voluntary work at the local hospital. It is while she is doing a shift of voluntary work in the outpatients department that she notices a young girl who is about three years old. The girl is called Elinor and there is something about her that reminds Blanche of herself. Blanche deliberately gets chatting to Elinors mother who is called Sally. Blanche and Sally strike up a sort of `friendship`, but Blance soon notices that Sally is the sort of woman who uses her friends. _____________ I am not going to `spoil` the story for you by saying what happens to them all in the end, but I would like to add that I really enjoyed reading this book. Although this book was published in 1986, you can still buy it from online book shops.
2 responses

• Los Angeles, California
27 Apr 17
The book sounds like it would make a good movie.

• St. Catharines, Ontario
27 Apr 17
Sounds interesting. If I come across it, I just may pick it up. Thanks for the suggestion.