Learning to cook..

India
April 28, 2017 10:45am CST
I don't understand why moms don't teach their sons how to cook.. they just think cooking is a work of a woman.. But, is it? Don't everybody need to eat food? So what's harm in learning how to cook? Every mother should teach their children about the basics of cooking so that they won't have to depend on someone else for food..
9 responses

• United States
28 Apr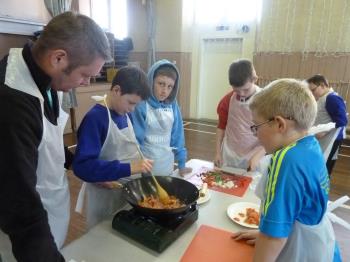 I was a single parent to two boys till they were teenagers till I married and had my daughter. I taught both my son's to cook as well as my daughter. My husband cooked as well. Matter of fact one of my son's wants to open a small restaurant or a food wagon. He has elaborated and made his own recipes.


• India
28 Apr
Hats off to your parenting.. these skills are really necessary.. I wish every mother in this planet teach their sons how to cook.. my relatives for instance, think that cooking is a woman's job. I wish your son all the best for his new business.. :)

• India
28 Apr
@dfollin
well .. my parents don't think like that.. they're open minded and my dad loves to cook.. but my relatives have conservative views ... I am sorry about your loss though.. and I guess the girl's father will learn eventually by practice.. :)

• United States
28 Apr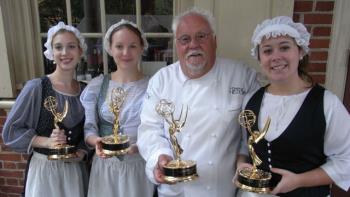 @HAPPSINGH
My uncle watches the show "Taste of History" cooking show with Chef Walter Staib. This is an award winning show. The chef has this show, wrote books and owns a restaurant. This knowledge obviously can produce a well money making career!



• United States
28 Apr
I think so too. Our son is a great cook since I let him experiment in the kitchen when he was very little. He also loved watching cooking shows as a little boy. When he was 4 years old, he made what he called "radish stew." I just watched to make sure he prepared the stew safely, and I must say, it was a good stew. I think our son does more of the cooking than his wife.

• India
28 Apr
That is so nice.. but where I live, mothers have a mentality that girls should do all the household work and boys should takecare of all the outside work.. I am sick of this type of mentality.. It's really nice to see that your son loves to cook.. if he really loves to cook then he should definitely apply to masterchef.. :)

• United States
28 Apr
@Slayqueen
Yes, the mentalities do differ from region to region. I do most of the home repair here, not my husband. I love to paint walls, lay tile, install baseboard molding and more. Here, we just do chores for which we have the skill to do.

• India
29 Apr
@Corbin5
wow.. now who says women can't do anything? :)

• United Kingdom
28 Apr
Absolutly. I am a retired chef. (now an author. It's easier on the legs!). Men who can't cook should suffer starvation until they learn! (okay, maybe that's a little drastic.)

• India
28 Apr
Well.. yes.. everyone should learn the basics.. I think it just makes their lives easier..

• India
28 Apr
yes , son's should also learn to cook ,but its different here. hope this changes with time.


• India
28 Apr
I don't think it's gonna happen any sooner.. but people here should learn from western countries.. they don't diffrentiate work on the basis of kind..


• Philippines
30 Apr
@Slayqueen
I am living in the islands of Philippines.

• India
30 Apr
@Shavkat
wow.. Philippines is a beautiful country.. it's great to find out that mums there teach their children to cook.. I wish everybody had this kind of mentality..


• Philippines
30 Apr
although i don't like cooking, i'm still glad i know how to cook a few dishes because it will come in handy if you can't leave the house or you don't have cash, but the fridge and pantry is stocked. i think involving children in the kitchen, even if it's peeling and slicing, cooking rice, cooking an egg is a good start.

• India
30 Apr
Yeah.. just the basics.. my cousins don't even know how to boil water.. they never step in the kitchen.. because they have been taught that cooking is a woman's job..

• Philippines
30 Apr
@Slayqueen
yeah. we joke that way here, too. that some can't even boil water, or would probably let the water evaporate and ruin the kettle. meanwhile, some are used to instant food that you just heat up, which isn't healthy, either.

• India
30 Apr

•
28 Apr
I think it has to be something natural.

•
28 Apr

• India
29 Apr
@TheInvisibleMan
that's different .. all I am saying is that there is no harm in teaching basics of the cooking.. these skills are important..

• , New York
1 May
That is very true. I taught my son to cook when he was much younger. He can cook very good dishes.

• India
1 May
That is great.. when we teach kids to cook they won't have to depend on others..

• India
30 Apr
That's true kids should be taught of basic survival techniques

• India
30 Apr
Exactly my point.. thanks for understanding..