A Gift to Remember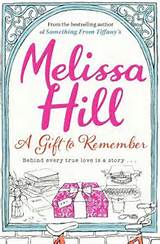 United Kingdom
April 28, 2017 1:01pm CST
A Gift to Remember`A Gift to Remember 'is the book that I am currently reading. Written by Melissa Hill who is the bestselling author of ` Something from Tiffany`s'. Melissa wrote this book in 2015 and I brought my copy with some vouchers I received from a local shop. I liked the look of the cover of the book because it had a Vintage feel about it.The Characters in the book. The main characters in the story are ; Darcy Archer, Aiden Harris, Bailey, Katherine and Grace. DARCY ARCHER Darcy is a young woman in her early thirties who loves books. She has read and collected hundreds of them over the years. Darcy lives in a small apartment in New York. She is single and at the moment she thinks she is happy to stay that way. AIDEN HARRIS Aiden is the mystery man in the story and we find out more about him as we go along. This is because Darcy bumps into him when he is crossing a busy street and she is in a hurry to get to work because she has overslept. Although she is on her bike and not in a car, she worries that the accident has cause Aiden a lot of harm. He ends up in hospital and he has lost his memory. Darcy has to unravel clues about his identity so that they will both discover who he really is. Before this incident , the two had never met before. BAILEY Bailey is the name of Aidens dog , a blue eyed husky. Bailey is left on the side of the road when Aiden is rushed to hospital and Darcy takes him home because she does not know what to do with him. On the way home Bailey leads Darcy to Aidens home , so at least she knows what his address is.Katherine Katherine is Darcy`s aunt who brought Darcy up after her parents were killed in a road accident. Darcy was twelve at the time and Katherine was in her thirties. Katherine is a successful single woman , but she wants Darcy to meet a nice man and settle down. Grace Grace is Darcy`s elderly neighbour who Darcy thought to be unfriendly until Grace helps her to look after Bailey.
4 responses

• Ringgold, Virginia
4 May 17
This sounds like a good book. I've never heard of Melissa Hill.

• Ringgold, Virginia
6 May 17
@millie02
Have you read any more of her books or is the only one?

• United Kingdom
5 Jun 17


• Los Angeles, California
28 Apr 17
This novel would make a good Hallmark movie. I think "Something from Tiffany's" was.

• Los Angeles, California
28 Apr 17
@millie02
I never saw it. Think it starred Alyssa Milano.