100 Days Of "Donald Trump"as a President of USA..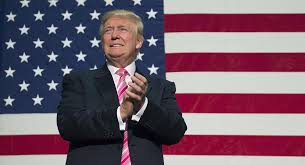 India
April 29, 2017 9:05am CST
USA president 'Donald Trump' just compleated his 100 days as a president of America..He said ,he really missed his old life much and that time he expected being president 'would be easier but its not.. He added that"he loved his previous life ,now he has more work to do than his previous life,its really gonna though for him..He said..... "Being President wasn't His Cup Of Tea"

[u][/u]
9 responses

• United States
29 Apr 17
Him being President isn't
my
cup of tea either


• India
29 Apr 17
hahaha...JJ..Him being President isn't a cup of tea USA also


• Singapore
29 Apr 17
@JolietJake
very well said! Since he is not that happy being a president, he can always steps down.

• India
29 Apr 17
@scheng1
.I think he is happy being a president but he loves his old life more than this..any way I think he will never step down ..



• India
29 Apr 17
Yes, Tht's true but He also taking strong decision about terrorism like in Seria..and taking hard to North Korea also.

• Singapore
30 Apr 17
@kanha1993
When USA bombs Syria, they kill innocent people too. The people have already suffered enough. They do not need to die in the hands of Trump. The best thing Trump can do for them is to get rid of their bad ruler, and put in someone else who is kind to rule the country. US soldiers can stay on for a couple of years to help them manage, until the people get used to the peace and prosperity. Bombing the country kills innocent. it does not solve the problem for anyone.

• India
30 Apr 17
@scheng1
Me not completely agree with you but anyway USA had found a strong leader...


• Redlands, California
30 Apr 17
Sad, and his followers still follow. Lets take a moment to getting in over our head and then saying this was not for me. Had a year and a half buddy and now you are realizing this.


• India
1 May 17
Its Nyc,,,I wanna Cup Of Tea with You DianneN..


• Hyderabad, India
29 Apr 17
He is a powerful person by himself. He need not learn anything and one need not teach him as he is already good Business Magnet. He is far ahead of his age which the U.S people will realize late

• India
29 Apr 17
Yes "Siva"He is a powerful person but its really tough for him also as a president cos "Being President is not same being Business a person..


• India
1 May 17
yES he is not working hard but I think he can make more better in USA..

• Atlanta, Georgia
1 May 17
@kanha1993
I really hope so. It's our people and our country I'm worried about. I want to be proven wrong but every time I hear him it sounds worse than the speech before.

• India
1 May 17
@RubyHawk
May be you will better Ruby on next future about Donald Trump.



•
29 Apr 17
Jokes, jokes and more jokes.

•
29 Apr 17

• Samoa
30 Apr 17
Time is so fast, is it really 100 days for Donald Trump? Hurrayyyy...he still have less than 4 years in the White House.


• Bulgaria
17 May 17
But he has too many social media accounts and there are so many US people that still support him and his policy even in that his situation.