Antiques Info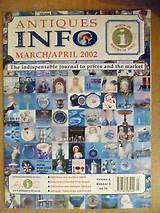 United Kingdom
May 1, 2017 5:42am CST
After being lucky enough to get my hands on a free sample of Antiques Info magazine, I decided to take out a subscription for a year. I am glad that I did because I learned a lot from this magazine. There were other benefits to subscribing because they gave you a free membership to their information service, meaning that they could give you information and free valuations on your antiques and collectables. Buying reference books The antiques information service also printed a huge selection of reference books on all areas of collecting antiques. Every issue of this magazine would have a couple of pages full of new books ( along with some older titles) that they had for sale. The magazine contained information on events that were happening in the near future such as antique fairs, markets, exhibitions etc. There were sections on Art, books,ceramics, readers questions etc. I particularly liked to read the page where people like myself had sent in photographs of their antiques and collectables and asked the experts questions about them.. The stories behind some of these items where very interesting.
3 responses

• Los Angeles, California
1 May 17
Sounds like a good magazine. Sometimes I get free magazines like that at antique malls.

• Boise, Idaho
1 May 17
We used to have several antique shops here but it seems to have gone out of vogue here. A person could make a good living at this. It would be interesting to learn the background on some.

• Hyderabad, India
1 May 17
Do they give free service? Very nice about it. I am having a wall clock in my house pertaining to the period 1832. I want to get the value of it? Can you give me their address?