Marsha's Log: Challenge Project Fixed Up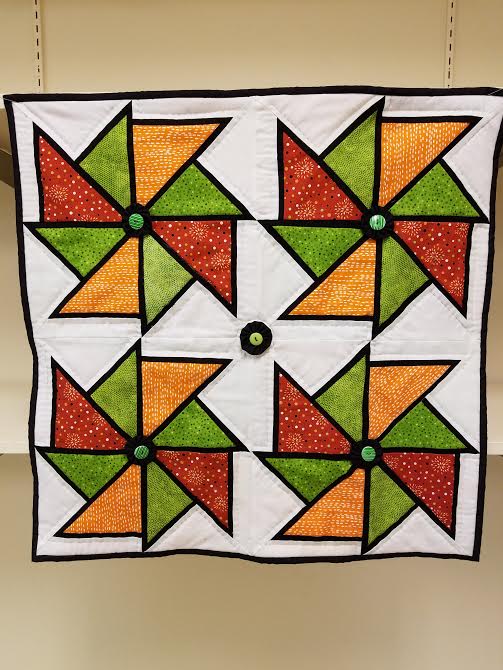 United States
May 2, 2017 3:29pm CST
I had the idea to put yo-yo's with a button in the center over my seams that didn't match up. I had taken along what I had left of the green and orange fabrics to make the yo-yo's. I got out 5 buttons from the basket of buttons from my hubby's mother. It so happened that one of the ladies in the guild was having a yard sale on Friday afternoon and evening. Most of us at the quilt retreat loaded in to cars and headed over. I spent a whole $3. I bought a bag of candy squares for $1, 2 placemats for 25 cents, a piece of black fabric for 25 cents and a piece of fabric that is black with tiny white dots for 50 cents, and then a bag that had little yo-yo's, packages of buttons and other misc items for $1. It so happened that the black was more then enough for me to completely remake the binding on my project, as well as make the yo-yo's in the black. It also so happened that the green buttons were in the $1 bag. I think the black with the green buttons looks so much better than my original plan! I'm really happy with it now, but I can't put it up for sale for another year?? We have been asked to hold on to our challenges to have them put up in our own section at the Wichita Regional Quilt show in June of 2018.
9 responses

• Canada
2 May 17
I wish I was still in Kansas to see that show in June next year. I love the finished project. How big is the finished project?

• United States
3 May 17
It's 24x24. In June of this year our guild is taking a bus trip to the quilt show in Kansas City. I've never been to any except the local one that my guild put together so I can't wait to go to a big one! My bus and entry into the quilt show is paid for. Now I'm saving what I can to spend with the vendors.

• Canada
6 May 17

• United States
8 May 17
@PainsOnSlate
Trying to talk
@GardenGerty
into going with me but sadly she lives over an hour away and the bus leaves at 6 am.....and I don't have a sleeping place to offer for her to just spend the night at my house.


• Canada
2 May 17
It's always nice when the project is complete to our satisfaction.

• United States
3 May 17
I am very pleased with it now. I have a five and dime quilt that I have really been thinking of finishing with a button and yo-yo in the middle of each block....wonder when I will have time to actually work on that.

• Winston Salem, North Carolina
3 May 17
Congratulations on getting it finished! I have two wall hangings that are waiting for me to attach the binding, unfortunately I feel absolutely no motivation. Maybe I'll get them finished later this week.


• Winston Salem, North Carolina
4 May 17
@marsha32
I fritter away entirely too much time on the web. I sit down "just for a minute" and don't get up for half an hour or more.

• United States
8 May 17
@Platespinner
My fritter away time is when I start going down my feed on facebook...I really try not to do that.

• Petaluma, California
2 May 17

• United States
3 May 17
Thank you Stacey. I'm sure you are busily making things too.

• Petaluma, California
3 May 17
@marsha32
Well, been busier with Mom, though things are slowing down so I can make more. I actually was able to put something into my Etsy shop today.


• United States
8 May 17
@xstitcher
OMG, I've had 6 or 7 bags here beside me since Christmas that I need to take pictures of and get listed on etsy.

• United States
3 May 17
The buttons and yo yos together are very striking.

• United States
3 May 17
I thought what a blessing to find enough black fabric for what I needed and then to find those green buttons in that bag. It just all came together.


• United States
3 May 17
Thank you. It's what they call paper piecing where you sew the fabric to the paper by the design.

• United States
2 May 17
Wow. You really found some useful things at that garage sale! The quilt looks lovely!

• United States
3 May 17
When a quilter has a yard sale, it's something you don't want to miss! I could have bought tons more, but honestly only need to buy what I really need when I have a room full of stuff already.


• United States
3 May 17
A challenge to hold on to it that long. Not that I shouldn't just hang it in my craft room and keep it for myself...it's just I think trying to sell what I make to earn a little.

• India
3 May 17
Thats really an amazing piece of art...you are really talented..

• United States
3 May 17
Thank you to you too. I don't normally make things that take this kind of time or work.