You'll Serve the Mankind or refuse the Negativity to surround you?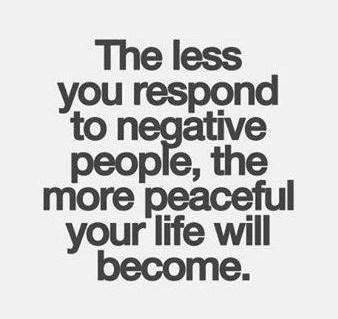 Australia
May 4, 2017 4:32am CST
God & Gurus tell us to respect each & every human being, regardless of Color, Cast, Religion or anything. I won't say that I'm up to the mark. However, I've been trying to do the same. I'm trying to apply this thing into my life that everyone is same, we're all connected and everyone came from one source only. Now, there's a Lady, neighbor of mine. She is a widow, with a son who is married. So, ultimately she doesn't have anyone to talk to, anything to do, her son & daughter in law, both are working. She's a lonely lady. She asked me a few times to take her along while going to Temple, Church, Spiritual Places, Yoga Classes or Anywhere & Everywhere I go. I thought it as it would be a service to the Mankind if I say yes, I said yes. But now I feel that its only Negativity I'm surrounded by. As she is so so Negative. All she has is negativity in her and I'm stuck. And the issue is I'm highly confused that shall I refuse her or let it go as it is going? Shall I get away from Negativity or serve the Mankind (Knowing the fact that she is so Negative)?
4 responses

•
4 May 17
Its a confusion but I think you have try to change her mind.give positive thoughts to her.if it works then good otherwise you have to move away from her slowly slowly

• Australia
4 May 17
Giving her positive thoughts isn't working AT ALL....... I've tried a lot, have also tried to make her understand to stop bloody cribbing. But I guess, she has made cribbing - her nature. Now, I guess, the best option is to Move Away... Thanks


• Australia
4 May 17
@Athinker
Hmmmm....... True. But its the only thing left to be honest.

• United States
4 May 17
Well, that's a tricky question, really. It is said 'God helps those who help themselves'. And while some may say the negativity is a 'test' from God for you to strengthen yourself, I don't feel God would do it that way. After all, you are availing yourself of the negativity by doing those things...it isn't necessarily God putting it there.

• Australia
4 May 17
I don't know, what's happening in this case. Because, whenever she's with me, around me, sitting next to me, at my home or speaking with me over the phone, she always talks about Negative stuff. About her backache, joints pain, headache, her son's problems, daughter in law's tensions & stuff. ALL NEGATIVE. And that's what irritates me. Because, if you're visiting a spiritual place, if you're visiting a Temple, Church or a God's House, vomit all the tensions, worries, problems to him. Put it in front of him and leave him to take care of them. NO POINT DISCUSSING THOSE PROBLEMS WITH EVERYONE. Now, put yourself in the same situation and please let me know. You would refuse her to take along Bluntly? Or you would let it happen the same way (Which destroys your happiness)? Please suggest, what would have been your call on this?

• United States
4 May 17
@JennyKelly
I'd just tell her I don't need all the negativity in my life and if she wants to stay that way, she'll have to find someone else to cater to her needs.

• Australia
4 May 17
@JolietJake
Sure. Thanks. I was just waiting for something like this. Thanks for your reply.


• Australia
4 May 17
Jenny, my mum is a bit like this. I take her for a drive every week, and although I care for her very much, everything is negative. 'Look at the lovely tree' I will say. 'I suppose some-one will cut it down soon' she says. And so on. All the time. I don't know what advice to give you. I do know that I recognise that I have to only half-listen to mum, and I hum a song in my head as we drive, so that her negativity doesnt affect me. I believe that people like your neighbour are leeches - they see the positivity in someone and they need it for themselves, but they suck it out of you without it affecting their own mood. They are good-energy thieves. If you cant protect yourself from this seeping of your goodness, you need to get out of the cycle, and give her the flick.

• Australia
4 May 17
Thank you so much for this brilliant answer and a detailed advice. I highly appreciate it. Thanks a lot




• Oklahoma City, Oklahoma
4 May 17
Which is the better firefighter---the one hurrying to fight the fire, or the one running away from it? If you've found peace, it's your responsibility to teach others to find peace as well. If you haven't found peace, then ask your neighbor to wait until you do find it (or tell her you need her help to find it!(