What happen to April showers bring May flowers?

Defiance, Ohio
May 4, 2017 8:54am CST
I love the rain and everything but I wish it would stop. We have had so much rain my area that we have flood warnings out. Plus to avoid going under viaducts when traveling. As they tend to flood when it rains excessively. We pretty much had a dry winter, hardly any snow or rain. April didn't bring much rain. But it has stormed every day this week. This weekend is calling for more rain. Really my yard needs to be mowed. I want to re-do my front flower bed and actually plant something to grow and eat this summer. Rain if you can't go away, at least ease up so I can get some work done.
6 responses

• United States
4 May 17
Aw man.. hope it goes away so you can do stuff

• Defiance, Ohio
4 May 17
Me too. Doesn't help that these houses where I live were built on swamp land. Lol.

• Anniston, Alabama
4 May 17
So far its been good around here with the once to twice a week rain, I have a part of my fields that still need mowed, I also have rows that is plowed to rake down so I can plant okra and I am not sure what else. I do know what you are talking about because I live in an area that floods and when it does it wipes out my garden.

• Defiance, Ohio
4 May 17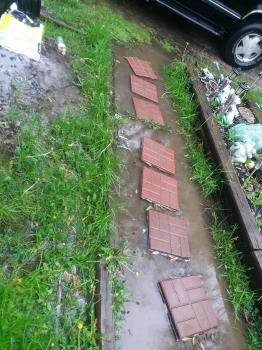 Yes, makes it hard on those who depend on the short warm weather season.

• United States
4 May 17
We have had far too much rain too. I would like to see the sunshine one of these days. Hoping that for you also.

• Defiance, Ohio
4 May 17
I love the sunshine. I love sitting outside watching the sun come up.


• Momence, Illinois
4 May 17
Same in the Chicago area we hardly had snow and rain rain and more rain.

• Defiance, Ohio
4 May 17
Makes it a miserable day. The rain wrecks havoc on my arthritis.

• St. Catharines, Ontario
4 May 17
Same song, different key here... At least we had a sunny if breezy day yesterday, but it was too mucky to really do anything in the garden.