Daily Bible Study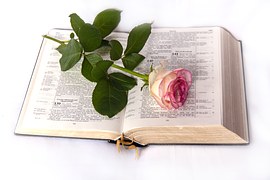 Green Bay, Wisconsin
May 6, 2017 10:35am CST
Day 239 Proverbs 22:6 Proverbs 22:6 Train up a child in the way he should go: and when he is old, he will not depart from it. When you look at children today, you wonder where they learned their manners, how to dress, how to talk, what they learned in school. Training starts in the home the moment a child is born. Their first word is 'no' because that is what their parents say most to them. From the home, training continues in the classroom. The classroom should be an extension of what the child learns at home. If training is done right, a child will be responsible when he grows up. Solomon's father was David and his mother was Bathsheba. From his father, he learned the Law of Moses. From his mother, he learned how to treat others with respect and what to look for in a wife. He had a lot to say about honoring both and not being a disgrace or bring shame to his parents. Solomon failed in the wife department and in his devotion to God. However, he did get it right in the end. Ecclesiastes 12:1 Remember now thy Creator in the days of thy youth, while the evil days come not, nor the years draw nigh, when thou shalt say, I have no pleasure in them; 13 Let us hear the conclusion of the whole matter: Fear God, and keep his commandments: for this is the whole duty of man. 14 For God shall bring every work into judgment, with every secret thing, whether it be good, or whether it be evil. (KJV) Solomon proved there is hope for all of us. No one is perfect, but you shouldn't fall back on that and make it your motto so you can continue in a wanton lifestyle. When you set out with the intention of training your children in the way they should go, and then want to quit because they took a wrong turn along life's road, remember, Solomon's words of wisdom, they will not depart from their training. They will return to what you taught them. You might be praying for a long time, but they will come back to God and they will come back to what is right and give up their wanton lifestyle. That is if that is what you taught them. Many children have no concept of God in their lives. Their parents don't go to church and might never have seen the inside of one or know anything about what God looks for in people. Their wanton lifestyle might be all they know. That's when praying grandma's, praying neighbors, praying friends are very important in a person's life. If you know someone who needs to know God, needs to know Jesus as their Savior, prayer is the only thing that will save them and turn their lives around. It won't be easy. Changing that type of lifestyle never is because the person doesn't want to change. They like their life the way it is and don't want any interference from God. Go ahead, interfere. Start praying. Just don't let them know you are praying, not at first. Let them know when they start telling you about different things that happen in their lives to change them. Then tell them you've been praying for them. Then they will be more receptive to God and might even go to church with you. You want children to learn when they are young, but people of all ages come to God, seeking his face, and turning from their wicked ways, and when they do, they always find God. 2 Chronicles 7:14 If my people, which are called by my name, shall humble themselves, and pray, and seek my face, and turn from their wicked ways; then will I hear from heaven, and will forgive their sin, and will heal their land. (KJV) Never stop praying for your children. One day they will turn their lives over to God and it will be a day of rejoicing, not only for you, but all heaven will rejoice with you. Let's pray: Father, help me raise my children in your way, learning about you and what is right. Let my children then raise their children in the way they should go so the generations will know you. Help my children turn back to you, and seek your face and turn from their wicked ways. Help them to trust you in every area of their lives. In Jesus' name, I pray, amen. Copyright © 6 May 2017 by Valerie Routhieaux Image courtesy of Pixabay
4 responses


• Green Bay, Wisconsin
12 May 17
Yes it does. I agree, parents need to teach their children the best way.


• Walnut Creek, California
13 May 17
At the Jewish preschool, where I work, "kavod" (repect) is taught from a very early age. The kids argue about kid things, like who had that truck first, but they are taught to work things out such that everyone's needs can be served. I emphasize "kavod" especially when we're in the Sanctuary. We're all humans, but there are times to be extra respectful, and to remember that there is something bigger than us as individuals. I could write thousands of words about the problems with parenting today.

• Green Bay, Wisconsin
14 May 17
It's great they learn at a young age. I could write as many words about it myself having lived through it.


• India
6 May 17
I agree, children should be taught what is right and wrong in childhood , when they grow up they won't take any wrong paths, but we can rarely see that now


• Green Bay, Wisconsin
6 May 17
So true, it's hard to find responsible children who are respectful of their elders and peers alike.

• Green Bay, Wisconsin
14 May 17
@TheHorse
Yes, I agree, there are a few respectful kids, but the disrespectful ones out number the respectful ones.



• Green Bay, Wisconsin
12 May 17
Yes, it is the best gift we can give our children.