Discuss fat? Heck yes!! Part 8 (and the end?)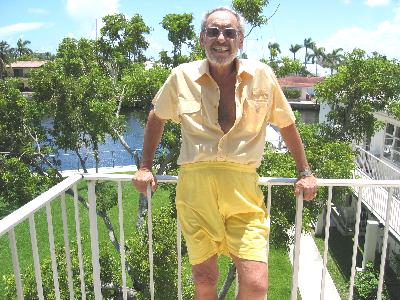 Ft. Lauderdale, Florida
May 7, 2017 4:51pm CST
Stray thoughts, hints, questions, 'fat' jokes, stray ideas plus more. I once had a nun in one of my classes who had a weight gain 4 weeks in a row--I had been easy on her but decided to get her back on track--gave her a lecture on 'gluttony being a sin' and then asked her what happened the past 4 weeks--with an innocent smile she replied, "It's my time of the month." Well, how could a good Jewish boy call a nun a liar?! The funniest moments I had with members was seeing the strip they did at the scale to be weighed--amazing what they took off--the best was a member of mine who was thisfar from reaching the 100 pound weight loss--he took off EVERYTHING--said he was wearing heavy underwear--and then many weighed all their clothes before coming to the meeting to pick out the lightest articles they had wearing Summer clothes in the dead of winter. IT IS ALL ABOUT CALORIES--the amount you take in and the amount you expend within a 24 hour period--I have always eaten my main meal before going to sleep (hey, if I die when I am sleeping at least I will go with a full stomach--I pity the poor person who has to do an autopsy on me!) and I have lost weight doing that. Most fat people eat at night and with no one around--amazing how many fat people you see who 'don't eat a thing'--women are more guilty of this then men because, usually, the latter like to show off how much they can eat. Contrary to belief most fat people are as healthy as thin people--both experience high cholesterol, high blood pressure, upset stomachs, etc. When a fat person says, "No," or doesn't eat the chocolate cake they go running to the scale to see how much they have lost--of course they haven't lost anything so they will go back and eat whatever is left. It took awhile but I have learned that IF I get fat again it's not the end of the world or me. What I consumed yesterday: Orange juice, 2 cups of decaffeinated green tea, 16-12 ounce cans of diet cola, 2 loin pork sandwiches made with broiled pork, lettuce, tomato, onions, mustard on one, 'no-salt added' Hunt's ketchup on the other--both sandwiches made on 4 slices of Arnold's Melba thin bread, a salad consisting of a whole head of lettuce, a large onion, a large tomato, Mrs. Dash's herb and garlic no-salt spices and all tossed in 2 tablespoons of apple vinegar, 2 tablespoons white vinegar, 2 tablespoons each of fat-free blue cheese and thousand island bottled dressing. For a snack I had 20 grapes and 6--count them--6 Fudgsicle no sugar added fudge bars---total calories for the day? 1, 402--598 under my maximum amount--tomorrow when I go to the movies I can have a small popcorn and not worry. (I know, I know, you don't eat that much and still can't lose weight---LIAR!:o) Only 2-3% of obesity problems are caused by a low/slow metabolism. Chances of you NOT regaining your weight, and more, is 2-3%--discouraging? Not for me--I would rather be in that 2-3% category. Fat people eat because they are: sad, happy, angry, feeling serene, it's snowing, it's not snowing, their clothes are tight or loose, someone insulted or complimented them, etc.,--we eat because we can. Fat IS a mask for other problem(s)--if you don't work at the problem(s) you won't get/stay thinner. Don't try to tackle losing weight with wanting to stop smoking, drinking, etc.--working on 2 addictions will lead to failure of both. Become a positive person--for the last 41 years the first thing I do when I wake up in the morning is look in the mirror and say, out loud, "Martin you are fantastic!"--try not to smile when you do that--I dare you! For 41 years when asked, "How are you doing?", "How are you?" I have answered, "Fantastic!"--silly? No, it works--for 41 years, through any downer periods, I have been/am fantastic--there really is a POWER to positive thinking. I do have a lot more I want to say so I better get started on that book! By the way, anything you want to ask (or discuss privately) feel free to e-mail me.
10 responses

• Boise, Idaho
7 May 17
i love to snack at night. I go back and forth. I do eat some healthy foods but am really into junk. I don't care if I die tomorrow. I've lived a good life and I will eat what I wish when I wish. I'm a foodie. We all have our own ideas on such things.

• Ft. Lauderdale, Florida
14 May 17
Are you saying you don't go on diets? You don't gain weight?

• Boise, Idaho
15 May 17
@GreatMartin
.......No, I am saying that I eat what I please when I please.

• Ft. Lauderdale, Florida
16 May 17
@celticeagle
And you don't have a weight problem? Or are you saying that even though you are fat you accept the way you look? Just asking.


• Nairobi, Kenya
7 May 17
Bye bye obesity.


• Ft. Lauderdale, Florida
7 May 17
Not really--it is always hanging around to get me back in the game!!


• Nairobi, Kenya
7 May 17
@GreatMartin
Then you chase it when it creeps back to you.


• Ft. Lauderdale, Florida
7 May 17
@EMuhungi
No, I just slap it away!!




• Hyderabad, India
7 May 17
yes. But, I can not quit smoking and don't want to. I am still trying.


• Toccoa, Georgia
11 May 17
One place where I always see many fat people are at Buffets Restaurants.

• Ft. Lauderdale, Florida
14 May 17
We are everywhere!!



• United States
8 May 17
I love your advice on staying positive. I think that is key also. But I feel in general exercising regularly seems to make people more happy, or at least that goes for me. I agree with you on eating at night. Bad, but its so hard to go to sleep with an empty stomach!

• Ft. Lauderdale, Florida
14 May 17
Sorry but I find nothing wrong with eating at night--doesn't make a difference when you eat as long as you stay within your calorie count in that 24 hours. Not an exerciser and won't start now. :O)

• United States
7 May 17
very good Martin.Discuss fat here not.

• Ft. Lauderdale, Florida
14 May 17
What do you know about fat, skinny man???


• Ft. Lauderdale, Florida
7 May 17
After 60 years of smoking 2-3 packs a day I stopped smoking in 2008--yes I gained a couple of pounds but it came off after awhile--tell that cardiologist I want to talk to him!


• Summerville, South Carolina
16 May 17
I'm overweight, but I refuse to blame that on sadness, depression, stress or anything else. I'm a very upbeat person. My problem is Mountain Dew. I don't overeat but I drink soda all the time. Diet sodas give me a headache. My doctor said to switch to water, but that doesn't sound like much fun. Congrats on sticking with it. A positive outlook makes a big difference.

• Ft. Lauderdale, Florida
17 May 17
Suggestion--water with lemon or lime???

• Roseburg, Oregon
16 May 17
Yes you better get started on that book.


• Ft. Lauderdale, Florida
16 May 17
It's going to be a long one--I gave myself a year to write it but I can see already it will take longer!

• India
13 May 17
luckily I am not obese, I weigh only 1`26 pounds . I am 5 feet 6 inches tall. good day

• Ft. Lauderdale, Florida
14 May 17
I was born weighing 126 pounds!!!