Climbing up for a perfect view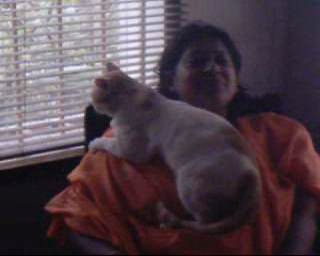 India
May 8, 2017 11:18pm CST
This is Lolly who lived with us for 3 odd years. Of the strays Lolly took to us well and gave us precious, happy memorable moments. I had a friend who had come over for a visit and here is Lolly climbing up her shoulder and looking out. Lolly was never scared of human beings - not even strangers. He was meeting my friend for the first time. We miss Lolly very much How close are your pets with strangers?
9 responses

• United States
9 May 17
Awwww . . . pretty Lolly! He certainly looks comfy on your friend

. We don't have any pets, but my daughter might get a couple budgie birds in the next few months. She is hoping they will climb upon her shoulders like Lolly has done here

.

• India
9 May 17
When Preiti came on the scene he left us.

• United States
9 May 17
@allknowing

That's exactly what happened with a pigeon we had. She was free to go whenever she wanted - but she always came home to us at night. Once we introduced a pup into the family - the pigeon had enough - she left and never came back.

• Anniston, Alabama
9 May 17
Not at all, they will not come near.

• Philippines
9 May 17
We are very close to our pets. Every morning when they are hungry they just get inside the house and wait their food.

• Philippines
9 May 17
@allknowing
strangers should stay away or else they will experience unwelcome greetings from our pets.


• India
9 May 17
It is normal for them to stay away from strangers but Lolly was special


• Philippines
11 May 17
@allknowing
I do agree that animals have their own way of being special.


• India
9 May 17
No. My friend who is also fond of cats was thrilled. Doodles is a different story


• United States
10 May 17
@allknowing
I'm glad she didn't mind. She looked a bit nervous in the photo.

• India
10 May 17
@DianneN
This happened a long time ago and if I remember she was happy that the cat chose her.



• India
9 May 17
Are your cats comfortable with strangers too?

• South Africa
9 May 17
@allknowing
just a few - but they give it a try. If they dont like the people they make a dash for the door

• Roseburg, Oregon
9 May 17
What a very pretty cat. That was nice your cat seemed to like everyone.