Human Brain Is Amazing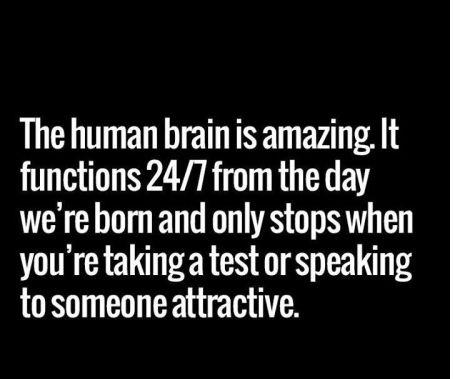 India
May 9, 2017 5:33am CST
We all know that, Brain is integral part of our body. Brain gives signals of what we do, how we do, what we wear, how we react to issues, how we get attracted to others and all it's never ending. Did you ever thought, how we get attracted to other's and we never know why we get attracted to certain people, it may be a small boy, a man ,a woman ,or an animal. I am not saying about the physical attraction that is something which we can understand. I am saying about the internal attraction which the brain triggers. Any idea's/thoughts are welcome



8 responses


• India
9 May
You are always super active dear with a smile face


• India
12 May
@prashu228
haha I am like that in real life also.. I keep smiling But only 1% in life I'm saddy when I've some problem


• New Delhi, India
9 May

• India
11 May


• India
9 May
I agree we get along with some people very quickly and it is difficult to do some other people. In fact we don't like some people even though they did not do any bad to us. I mean every one may treat people differently. However, I have no idea behind the secret. If you know then please share it.

• India
9 May
Even I don't know ,that's why the discussion


• India
11 May
@prashu228

I eagerly opened this discussion to know the secret.


• India
11 May
@Sreekala
lol, did you find it? how are you? i did not see you yesterday?



• India
9 May
That is something physical, behaviour and magnets of opposite person always attracts us


• Mauritius
10 May
@prashu228
absolutely. Well thats what i believe. Others will think differently perhaps

• India
11 May
@Nawsheen
agreed, every one has their way of looking at things..how are you today?




• Canada
15 May
Maybe we are attracted to people with whom we are comfortable?