Christmas at Claridges.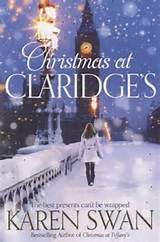 United Kingdom
May 9, 2017 5:33am CST
I brought this book a few weeks before Christmas because I had a voucher to spend. I was hoping that reading a book with a Christmas theme would help me to get into the Christmas spirit. However while reading the book, I did notice that it had very little to do with Christmas or Claridges. ___ This book is about a girl who is known as Clem, and she is also known to be a `Party Girl'. She lives life to the full and always has a new boyfriend because she always dumps them after a set number of weeks. By the time Clem is twenty nine years old , she is beginning to get herself a bit of a bad reputation. Clem could be described as somebody who has a charmed life with rich parents and an adoring brother who she shares a flat with. Her brother runs the family business where Clem has been found a job. But there is some underlying problem between Clem and her mother and we are left wondering what that is all about. A chance meeting gives Clem the opportunity to meet a man who stalks her in a good way. This mystery man gives the family firm a huge contract on the condition that Clem does the work in his home in Italy. While in Italy, Clem is confronted by people from her past and she has to come to terms with the mistakes that she made years ago. ___ By the end of the book, the reader has realised that there is more to Clem than they thought at the start of the book. I enjoyed reading this book and I found it very hard to put down once I got into the story. There are a lot of twists in this tale that made me guess wrongly about who was who while the story was being told.
4 responses

• Boise, Idaho
9 May 17
I like those books that are hard to put down. I also like twists. Sounds like a good read.

• Boise, Idaho
15 May 17
@millie02
......These are the ones you want to share I would think.

• United Kingdom
15 May 17
@celticeagle
Yes, it is no fun writing about books that I did not enjoy reading.


• New Delhi, India
9 May 17
Sounds interesting... Enjoy

• New Delhi, India
9 May 17
@millie02
could you relate the story with the title?

• United Kingdom
9 May 17
@amitkokiladitya
Not really because Christmas and Claridges were only a small part of the story.


• Los Angeles, California
9 May 17
The story is a voyage of self realization?