Good change....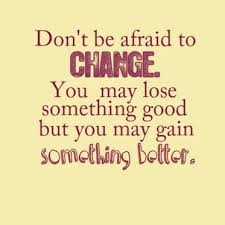 India
May 10, 2017 5:01am CST
Hi Guys..., Am going to share with you about the change that happened in my life.It happened in my school days..Till seventh standard I studied in one school which was near to my house.Then my parents planned to change my school,since the former school where I studied was not that good.so they decided to join me in the school where my sister studied.Initially I was not interested, and I let my parents to know that, I don't like to go to any other school and also said that I was more comfortable in that school itself.But my parents was not ready to accept my reason.so they joined me in that school.There the teachers were very caring.In that school,studies are secondary,the basic thing they want in us is discipline, obedience,etc.After going to that school only, I learned many things in my life.It changed me a lot.It made me understand my life and the world.At first I neglected to join in that school, but If I hadn't joined in that school, I wouldn't have learned more things..In my life. Sometimes the change what we accept for other's may change our life...

Have you ever undergone such experience in your life? Have you ever thought that the thing which you doesn't liked, but changed your life?? Image courtesy: Google.
10 responses

• New Delhi, India
10 May 17
I believe that everything that happens in life is for our good


•
10 May 17
Hey! A similar thing happened with me. I too changed my school after class 10. Not because my parents wanted me to. My parents have always favored me. But I needed that change badly. The reason was not just the school but people. I loved my teachers a lot and they did the same. In fact that was one reason that was holding me back. But I felt that I need to change my group. I felt that I need to start all over again, you know, at some place where you are just a stranger, where nobody knows you, where they might not judge you. And so the much needed change brought with it much happiness. Besides being in an esteemed school, my personality developed, my understanding developed and the friend circle obviously changed. A change is necessary. it helps us to know more about ourselves. It brings us close to our own being. We get to learn about our potentialities, our latent talent and much more. Moreover, change is inevitable.

• India
10 May 17
@invisible_string
.... Thanks a lot.... Sharing your experience..



• Hong Kong
12 May 17
Yes of course same thing happened in real life for most of us.


• Singapore
30 May 17
That was a very benificial chnage on your part when you move to another school.


• India
11 May 17
Yes it happened to me, my home was near to my college say, 15m ride. When we shifted in our new house, I used to travel 1 hour to reach the college. This change taught me the value of time. Yes change is require and change is inevitable.

• India
10 May 17
@Teekaaa
good to know you've enjoyed the change to a new school, although you resisted it first. No experiences for me like this.

•
10 May 17
i have not ever undergone such experience in my life my bro but i want to say you best of luck.

• Samoa
29 May 17
You are right on this. Sometimes we are intially resistant to change without even knowing that it will going to have a very far-reaching effects on our life.


• Daytona Beach, Florida
5 Jun 17
What turned my young life around was when I was in sixth grade there were teacher strikes in public grade schools. My mom didn't want me missing out on schooling and put me in a Lutheran private school. We had Bible studies I really enjoyed and every Wednesday we went to a church service. I really enjoyed that time.