Tasting Breyer's Blasts Heath Ice Cream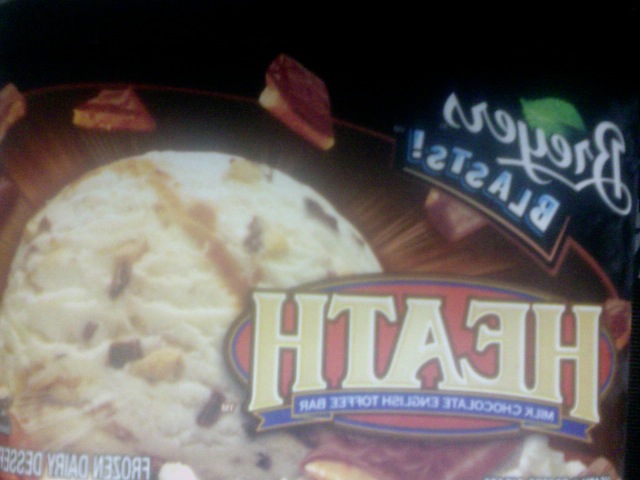 Los Angeles, California
May 10, 2017 10:05am CST
One of my favorite candy bars is Heath so naturally I could not resist checking out the combination of Heath and ice cream. You know what a Heath Bar is: crunchy toffee with a chocolate coating. Perhaps my anticipation was too high as I am somewhat disappointed by Breyer's Blasts Heath. The toffee flavored ice cream with caramel swirls is rich and delicious tasting. Quite creamy. The carton stated toffee pieces so I expected broken up candy bar chunks blended in. What there is are small chocolate bits and I could barely discern any Heath Bar taste. So on one hand this ice cream does taste very good and on the other, did not live up to expectations.
10 responses

• United States
10 May 17
I was going to try it but what I would want it does not have. I live for reviews for sure.

• United States
10 May 17
Yes I had that experience as well John, was a tad bit disappointed to not find chunks of the actual Heath Bar that I also love. Still, it is nice to taste the different kinds.


• Momence, Illinois
10 May 17
My kid loves Heath Bars too, thanks for the review I won't be buying that.

• United States
15 May 17
meow you know the cat is here to bite and eat all the ice cream! meow

• Petaluma, California
12 May 17
I've had that, I believe, but not for a long time.

• Ringgold, Virginia
12 May 17
I'm not really a big fan of Heath Bars, but I do like Reese's peanut butter cups and Snickers, so I'd eat ice cream blended with those candies.

• Toccoa, Georgia
11 May 17
That sounds so tasty! I love Heath Candy Bars and to put it into ice cream sounds wonderful.

• United States
11 May 17
I've had that ice cream and I totally agree with you. It is good but should have been called caramel swirl or something other than Heath bar

• Bunbury, Australia
11 May 17
Ice-cream with health bar bits in would be nice.

• Banks, Oregon
11 May 17
ICE CREAM..... I was just reminded by reading you're post there is Ice Cream in the freezer....