Ironic Twist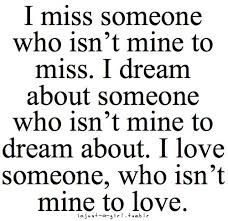 May 10, 2017 6:40pm CST
Oh how I love you so much...I thought that you really love me too...but the one you love is someone else and not me...and that someone you love... love somebody else...it really hurts me down deep inside...the pain...oh it cuts like a knife and I'm so deeply wounded...I can longer live in this world of lies...what should I do to mend this broken heart?
6 responses

• United States
11 May 17
I know this is hard to realize now Larry, but one day, this broken heart feeling, you will wonder why you felt this way. I had many of that kind of feeling, but it passed away from me in a little while and I found another adventure! I hope you can move past this. Sorry it has happened this way.

•
11 May 17
Oh, thank you so much for your kind and tender words.


• United States
11 May 17
@sputnik8
Welcome Larry. You will see. It is not that the memory goes away, but that awful feeling subsides.


•
11 May 17
Oh no, you must be really a poor broken-hearted guy.

Find somebody new!


•
11 May 17
Is true love ?that your loved one is love someone and this someone love other not your loved one and this gives you pain

•
11 May 17
@Athinker
Yeah, that's quite true. Did you also experienced this before?

•
12 May 17
@sputnik8
yet not I love someone but I don't know that she loves me or others


• Toccoa, Georgia
27 May 17
I hope you are able to overcome this. I do understand how you feel.

• Garden Grove, California
23 May 17
findsomeone new who is loyal and loves pnly ]you