So I Rescued an Injured Stray cat today.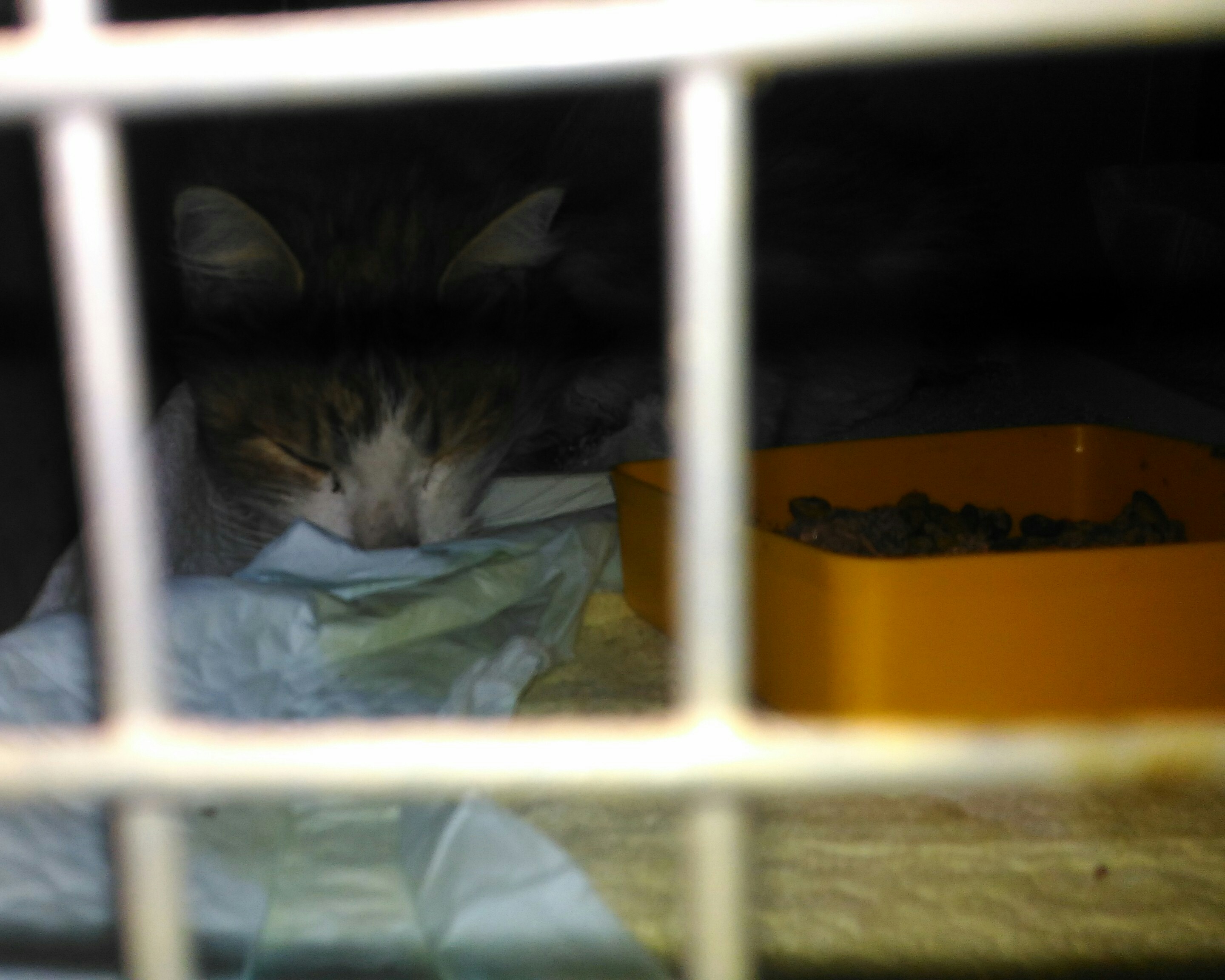 Hartford, Connecticut
May 10, 2017 11:09pm CST
So my day took a right turn very early this morning. I got home from work at 7:30am Let my dogs out in the back yard and a few minutes later the neighbor is telling me there is a cat just laying there next to their back door since 7pm the night before.

So I Immediately run over there hoping it is not one of my cats. (I have 15) What I see when I get over there was pretty sad.. a little orange and white kitty that is very emaciated and so weak she cant move from this spot she is in. with an obviously hurt and swollen front leg. She (I later found out) looked at me and cried and tried to move. Ok, well, I can't leave her there like that. So I run home get a carrier and put her in it. Get her some food which she ate voraciously! Call the vet get an appt for 2 hours away. And today is our shopping day.. So I have to bring her in the car with us.. and she just continued eating while i was driving never even cared about the car ride or anything. Spent nearly 2 hours at the vet and $300 and now I have a cat that has bite wounds on a front and rear leg and has to be quarantined for 6 months.. So I now also need to find her someone that has no animals that can rehab and watch her for 6 months or she has to live in a cage for that entire time at my house and that doesn't seem fair. She is on pain meds and didn't want to eat too much tonight which has me worried whether or not she will even pull through this.. I hope by tomorrow to see her eating with gusto again.. Because I don't want to have to try to force feed a stray UNKNOWN cat in pain.. as I will probably get bit and then she will have to be killed and tested for rabies. So for those that pray.. she can really use some.

9 responses

• Bunbury, Australia
11 May 17
Sending prayers for your little cat. She is lucky you found her and took her in. I hope she is able to pull through.

• India
11 May 17
Prayers going out to kitty.Thst is such a nice post that you came to her rescue

• Hartford, Connecticut
11 May 17
Thank you. I hope it all works out. I really need to find someone else that would like to be a part in bringing her back to health.. I think she will do better in a house that does not have all the animals I have so she can be allowed out the cage and learn to love and trust people. She seemed friendly enough when I found her. So I think she can be a good pet.



• Philippines
11 May 17
the kitten is weak and should be separated fom you, because if she bites, tendency would be, if she has rabies, the person bitten might get infected with this virus. if the cat lives, then you will have 16 to care for. you are the angel of the stray cats, my friend.


• Hartford, Connecticut
11 May 17
she is in a crate right now. she can not have nay contact per the state government with any other animals - minimal contact with people and can not be let to go outside for 6 months. I would prefer to have someone that does not have animal take her so she doesn't have to remain caged but can still be watched closely for the 6 months. But we only had one case of rabies in out city for all of last year. so It is probably highly unlikely that she has it. it is just a precaution and the law we must follow.

• Philippines
12 May 17
@minx267
i hope you find her a good home, a family who will take good care of her. i read some more unfortunate news about animal cruelty on FB. a few minutes ago, my sister also sighed a dismay because she wanted to show me a post about how a dog was killed by his owner, who is mentally deranged. i told my sister that i do not want to watch any of these gruesome actions of imbeciles being cruel to the dogs and cats.

• Hartford, Connecticut
12 May 17
@ridingbet
Yes, I understand that.. some days Facebook is too depressing and every other post seems to be about animal cruelty. I hate it and have to disconnect


• United States
17 May 17
Wow you have 15 cats, now 16! That was very sweet of you to take the stray cat in and spend money for the vet bill. I hope she'll eat soon.


• United States
17 May 17
@minx267
Aww, that is sweet of you & your roommate. Hopefully you find a nice home for her =) And thats amazing you two were able to help this cat!

• Hartford, Connecticut
17 May 17
@infatuatedbby
thanks. she is still going to take some work.. her leg is far from healed and she is still so thin.. I just keep feeding her as often as she will eat

• United States
17 May 17
@minx267
I hope she will eat Any tips to make her feel at ease ? A toy or something?


• United States
11 May 17
She was meant to go to your door exactly Minx. Some people would not have helped or would not have been able to help. Hope she improves.

• United States
11 May 17

• Hartford, Connecticut
11 May 17


• United States
16 May 17
How is she doing? Hope she's doing better!

• United States
12 May 17
aww. My black cats were strays. Lily, the female, was shy around people. We think it was because she had a hurt leg. She is now a little more friendly and her leg is better.

• Hartford, Connecticut
15 May 17
Awesome, This girl has been amazingly calm through out. very friendly, her leg doesn't look much improved to me yet. it is still at least 2x the size it should be.. but its odd. it feels hard, not soft like an abscess. Anyway, she is still on antibiotics. and pain meds.. so we will hope time will heal her leg also.

• El Paso, Texas
11 May 17
The poor thing and poor you as well, maybe she didn't eat anymore because of the meds. Hopefully she drank some water as too much food after not eating in a long while might constipate her. I'll pray for her and you as well. Maybe you can take a shot of her and post it on Facebook and Twitter, people have said that actually works.