My Great Grandmother - Retha Rand Smith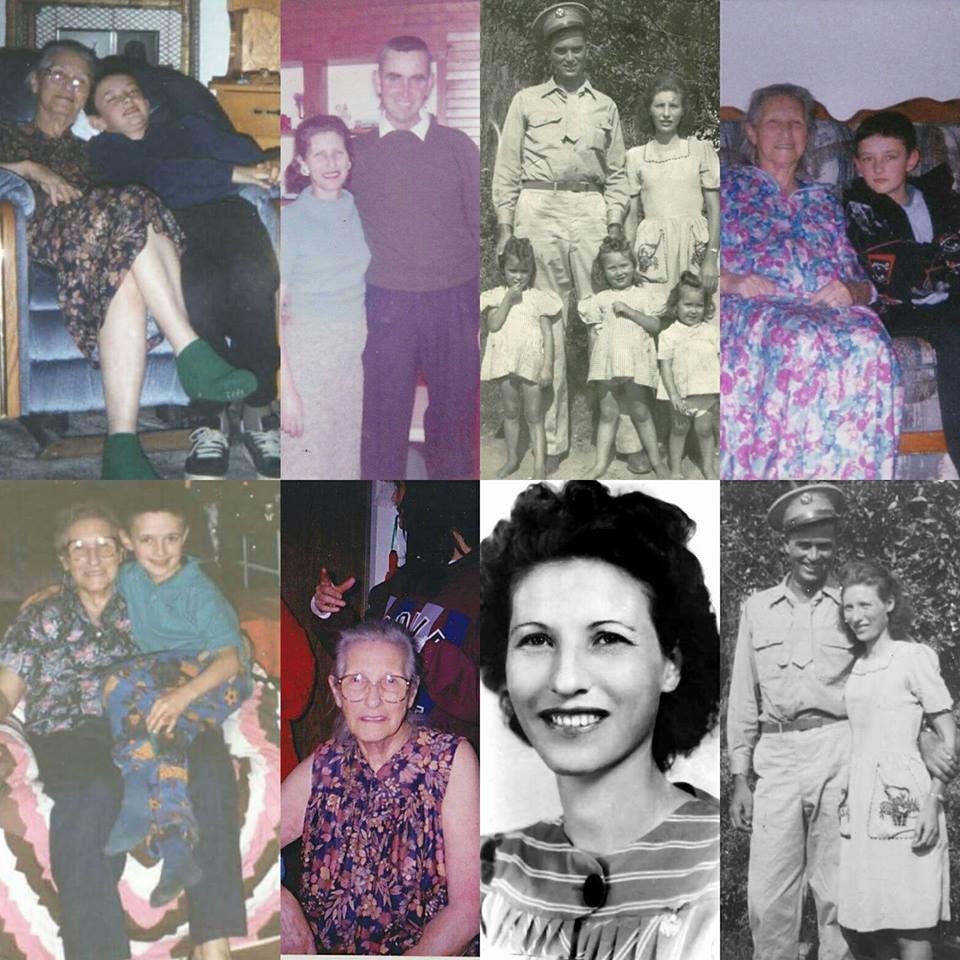 Banks, Oregon
May 11, 2017 8:24pm CST
Retha Eula (Rand) Smith - My Maternal Grandmother Ellen's mother, This is the Great Grandmother i have referred to in my "Stories from Grandma" series. Great Grandma Retha was the 2nd oldest of 11 Children, born in 1918 and raised in Arkansas. Her parents three oldest children we're girls, but this did not stop them from putting them to work. Her jobs included field work, milking cows, turning the separator, taking the cream from the milk, and washing clothes with a scrub board. She also worked with hay, and a hay baler, and helped wheat cutting and trashing. she was the only girl in a all male work crew, and she would work circles around some of the boys. As a teen she once made her own wine, they would gather grapes and make juice, they would slip sugar and yeast from there parents cupboard. they would often deal with storms where they lived, she remembered one time her father only had time to get in the barn from the field he was working in. A big oak tree that was in the yard, the yard fence was wire and nailed to the oak tree keeping the livestock in, the lightning struck and the tree split in half falling and crushing the livestock, and the impact of the fall causing all the children in the house to fall to the ground. Her dad ran in the house just knowing they would all be dead, as he said great balls of fire rolling across the tin roof. She would move out of the house at age 16 having started house sitting for a neighbor whom had a mentally challenged brother whom she would care for, soon after she would run away from Arkansas with her older sister Beula going all the way to Centralia, Illinois. She would marry my Great Grandfather Leo Smith a few years later, and in her words jump from "The Frying Pan Right Into The Fire" they did have a rocky relationship, she would say he was just as stubborn and strong of temper as her only bigger and stronger. She recalled one fight where he threw coffee and the coffee pot at her, and she in turn through the water and water bucket on him. After getting married in 1939 they would both work on a farm, she would hoe cotton for 10 hours a day for 75 cents, he plowed fields for 10 hours for 1 dollar. With this they would also set up house keeping, 1 year after marriage they would have there twins. There was no electric, no in-door plumbing, only a wood cook stove, and a wood heater, washing on a rub board, She would heat water on the stove, hang clothes on the line in summer and winter, in 1942 they would own there own farm and would start farming for themselves. By 1943 they would have a third daughter, They would also have to worry about tornadoes, one time the porch blew away while Great Grandpa Leo was putting stuff in front of the door. Eventually they realized it was just to strong so he scooped up the twins, while Great Grandma grabbed the baby and they made there way out to the canal by there house, they would lay down flat and hold onto to willow bushes, By the next one they had built a storm cellar, back then is was just a big hole in the ground, with logs around the sides, and a top with a stove pipe in it so you could get air. the hole would fit a matress, and would always have emergency supplies in it, sometimes when it was thunder and lightning they would go out there. They would eventually become more advanced but they we're never very well off. By 1944, Great Grandpa had enlisted in World War 2, before he left he tried to teach Great Grandma how to drive but she never did learn and refused to drive after he left. She would go visit him at Fort Bragg but back then it was always service men and there families seated first, so she usually ended up riding in the baggage, next stop though another service men offered her to pretend to be his wife so could sit in normal seating, she said it made a long trip much more enjoyable having the company of others. When her husband returned from service he became an alcoholic, it was often hard times at home. She went back to work at farming and so did her husband, helping her parents out. But after a few more years her husband got sick of farming and wanted to travel, and so they did, my Grandma often talks about this as she went to more schools during grade school then she cares to remember, they lived in Michigan, Arizona, Missouri, Illinois, California and then Washington, they would eventually go back to Arkansas and have there youngest child, and first son Jerry. They would settle in Florida for a while before finally making way to Oregon, and getting into the berry picking business. Great Grandma was 24 years older then her youngest sibling, and 32 years older then her youngest child, but there was never a generation gap when the family all came together, the whole family enjoy singing, and each one of them could play an instrument. They really we're as close as a family could be. Eventually Great Grandma and her husband would divorce, they would wait till there youngest was 18. I think Great Grandma was worried he would go on and have more children and she never liked that, a woman could have more children after divorce, or when there husband died, but for whatever reason she frowned upon a man doing so, but of course it didn't stop him from remarrying, they did however stay close, he would come over to fix things around the house when needed, and come visit his inlaws when they we're in ton for a visit. Great Grandma was a tough but loving person, she would always admit she may not have did everything right as a mother but she never gave up and she worked her butt off. Great Grandma was always incredibly close to all her family, she was a very good christian woman, she loved her son most though, you could tell that there bond was like no other, it was so sad when he died, i have never seen anyone more emotional and heartbroken then seeing her at his funeral. I loved my Great Grandma dearly, i always called her my Pretty Great Grandma, i really do think i was her favorite of all her Great Grandchildren as she always knew i was the first to run to give a hug and a kiss on the cheek, and she would often find me just to have me sit with her, i remember Grandma saying "Now mom you are getting to hold him he is getting big" and she would say "I will never be to old to have a youngin sit on my lap" she was also probably the only one of my Great Grandmothers to really be very into Genealogy, she worked her butt off traveling around to court houses, and contacting old kin, she really started all the work and i just picked it up. I often think of her when i work on my family tree and i always smile, because i know how happy she is that i have gotten to know her family, and that i am continuing on her decades woth of research. ***Collage of photos of Great Grandma Retha, with me, with Great Grandpa Leo, and her daughters.
8 responses

• United States
12 May 17
Oh wow. Havent seen a long post like this from you. But i loved it! And 11 children?! Holy uterus. Lol

• Banks, Oregon
12 May 17
Yes I got a little carried away there was just so much to write

• United States
12 May 17

• Banks, Oregon
12 May 17

• Defuniak Springs, Florida
12 May 17

• Banks, Oregon
12 May 17
Thank you for reading it, i know it is very long but i really got carried away writing about her, so many great stories to share, she lived quite the life.

• Defuniak Springs, Florida
12 May 17
@chrissbergstrom
You should write some of the stories down, and get them bound in leather. It would be a great family heirloom.

• Banks, Oregon
12 May 17

• Green Bay, Wisconsin
12 May 17
Very nice collage of your great grandmother. She sounds like a wonderful woman.

• Banks, Oregon
12 May 17
She truly was, i have learned so much from her.


• Banks, Oregon
12 May 17
Thank you she truly was a wonderful person

• Atlanta, Georgia
12 May 17

• Banks, Oregon
12 May 17
@RubyHawk
Some people have such a strong skin and go through so much i really think it is a maternal trait in my family all of them we're so hard working from my mom on backwards....


• Bunbury, Australia
12 May 17
That's a lovely post about your great great grandmother. Thanks for sharing her story.

• Banks, Oregon
12 May 17
You are welcome she lived a great life

• United States
12 May 17
She sounds like she had a very interesting life! I wish I had gotten the chance to know my great grandparents. It's wonderful that you are sharing these stories and keeping their memories alive.

• Banks, Oregon
12 May 17
Thank you yes she was a wonderful woman, i think it is so important to know our families past.

• Anniston, Alabama
12 May 17
No one ever does everything right, she sounds like a good woman to me.

• Banks, Oregon
12 May 17
She really was and she had a beautiful southern accent, i used to ask my mom why can't i sound like great grandma lol.... as a kid i just love those accents : )


• Banks, Oregon
12 May 17
I do miss her she passed in 2002 at 83.