Are You Interested In Your Career?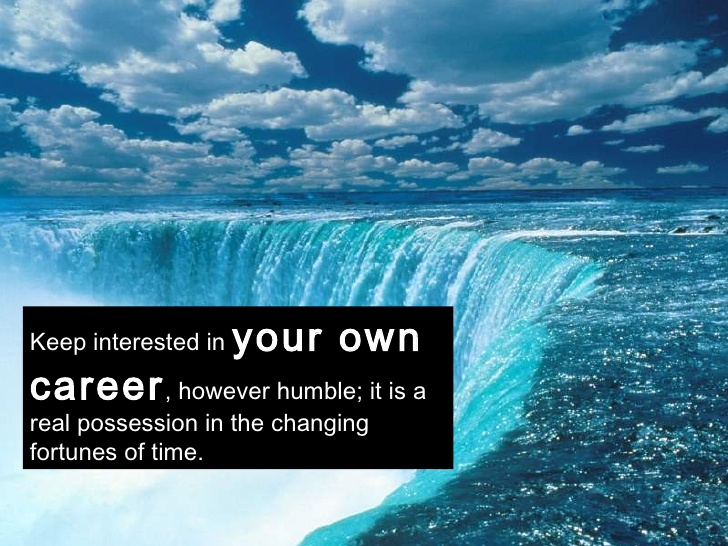 Samoa
May 14, 2017 7:05am CST
What is your career and are you still interested in your career? Are you proud of your career no matter how humble it is? One's career is your posession or property in a sense. Everything is in constant change, sunrise and sunset, day into night, the world rotate on its axis and revolves around the sun...in the same way that time and season change like the "wheel of fortune". Thus say the Desiderata, "Keep interested in your own career, however humble; it is a real posession in the changing fortunes of time".
6 responses

• Agra, India
14 May 17
Thanks a lot for the inspiring words

• Samoa
14 May 17
@amitkokiladitya
Thank you and have a nice day.


• Agra, India
17 May 17
@Lupita234
he is fine. Yes he loves his school but there are summer vacations at present


• Samoa
14 May 17
@responsivime
That's nice my friend. What dya teach by the way?




• Green Bay, Wisconsin
14 May 17
I have been involved in my career since the age of 8 when I began writing. Everything else I've done was only a job.

• Samoa
20 May 17
@just4him
That's really good to hear.


• United States
14 May 17
Yes I always apply Desiderates words to my career. And I found this writing so profound as I recalled it through the years of working. Whenever anyone might say what I do was no good, I would remember the words of the writing..humble.

• Nairobi, Kenya
31 May 17
Well, I am a passionate businessman. Yes, I am very proud of my career.