When is Enough, Enough?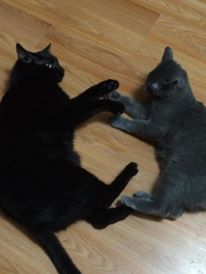 United States
May 15, 2017 4:43am CST
My parents adopted a cat from a lady that is an animal hoarder. After having the cat for a few weeks he began to get ill so they took him to the vet, and he is doing much better now. This leads me to two questions, one being how much money and treatments are to much? They have you paying for treatments, tests, checkups, and then follow ups again. I know we love our animals but it seems like if you have a sick animal they leave you sit in the room waiting while they conjure up a plan to make the most money they possibly can. Second, the humane society has been notified of this person and has done nothing for the animals. She has 10 dogs and probably about 30 or so cats in a tiny apartment. She has no kennel license so she is absolutely in violation of laws. Not to mention i have talked to other people who have adopted pets from her to find out they are sick and have to be treated. What do we do about people who keep to many animals and what do we do about people who capitalize on sick animals and the people who care for them?
5 responses

• Northampton, England
15 May 17
This is an illness and it needs to be recognised as such. The lady who used to look after my cats when I lived in Manchester had upwards of 40-50 cats and a dozen dogs in a small three-bedroomed terrace. She just couldn't help herself as her addiction to 'helping' animals, especially old, sick animals, was totally overwhelming. Her house smelled so bad you couldn't go past the front door without gagging but she was - and still is - one of the kindest and most positive human beings I've ever known.

• United States
17 May 17
Yes, it's nice that she gives animals a home it would just be nice if she would spend time with the animals instead of making new ones sick.

• El Paso, Texas
15 May 17
If there is an ASPCA in your area I'd call them.

• United States
17 May 17
They have been called she just give them to a friend to keep and then as soon as they leave she gets them back.

• El Paso, Texas
17 May 17
Perhaps you could report both her and her friend
@snb7090
then they will be able to catch them. Too bad we can't just issue a citizens arrest for abuse, I'd love to be able to do that. Do you think any of the others who've gotten pets from her would sign a petition to give to the ASPCA?

• United States
15 May 17
This is a violation of law, get the law involved.

• Fairfield, Texas
15 May 17
I would call the police for an Endangerment call. I would also call the owner/manager of the apartment complex. I would also call Health & Human Services. And as far as veterinary costs; shop around
@snb7090
.

• United States
17 May 17
Here is the sad part. They know but won't do anything because instead of taking care of her pets she walks around town and reports other people for doing things so they let her do what she wants because she gives them information.

• Fairfield, Texas
17 May 17
@snb7090
And in the meantime her animals are allowed to suffer. What is wrong with that picture!!

• India
15 May 17
That's so sad, how come the woman do this, if she is not interested she should give them away ,not making money..

.. somebody should complain about her