Bollywood Drama : Fashion (2008)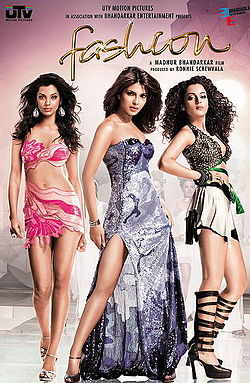 Austin, Texas
May 15, 2017 10:27pm CST
This Bollywood film was released in 2008. No matter. The soundtrack for "Fashion" never gets old! The film is great entertainment! I am a loyal Priyanka Chopra fan. I also like Kangana Ranaut; but not as much as Ms. Chopra. It's not because Ms. Chopra has made her mark in America, starring in the TV series "Quantico" and getting a major lead role in the movie "Baywatch", etc. I just really like PC. Also, in this particular movie, the designer clothes were amazing! Image credit: By Source, Fair use, en.wikipedia.org/w/index.php?curid=19930170

Kangana Ranaut and Priyanka Chopra Catwalk on the Ramp Bollywood Hindi Movie Song.. Marjawaan Fashion 2008
4 responses

•
16 May 17
I love this movie ... I love everything about it ...and i am also a loyal Priyanka Chopra fan....i love the way she carry herself

• India
16 May 17
Wow so your are PC fan, no doubt she did some good movies

• India
16 May 17
She is trying to positioned herself as a global icon , which is good , but god ! Someone please tell her that she is doing worst thing to her face. Her surgery on nose is making her day by day ugly. May be the side effects of the surgery .

• Austin, Texas
16 May 17
I suspected she might be having a little "nip and tuck" going on. Mentioned it to my husband and he told me "Don't hate! Appreciate!" He's an even bigger fan of Priyanka Chopra than I am.



• India
16 May 17
Yeah. I like fashion movie, but I did not like one point in that , how they ended Kangana's role

• Austin, Texas
16 May 17
Yes. The ending for Kangana's character was unhappy. Did not like that at all.

• India
16 May 17
yes you are right.this is good movie , full of entertainment. i watch this movie a long time ago so i don't remember a lot of story, but at that time i enjoy this movie.