Bollywood Drama : Chandni Bar (2001)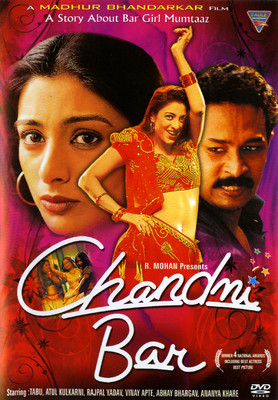 Austin, Texas
May 15, 2017 11:15pm CST
Watched "Chandni Bar" (2001) as a weekend movie with my husband. We picked it because we were not familiar with any of the actors or actresses. As far as the acting, the script, etc. ... it was fine. Did I say "fine"? "The film was a critically acclaimed hit and it won four National Film Awards." (Source: Wikipedia) I don't want to spoil it for others who have not seen the film. The performances were award-worthy. It's just that ... if I were to use one word to describe the story line, that word would be "hopeless". Because throughout the movie I kept hoping. But my hope was never fulfilled. I was very moved by the characters and the harsh realities of life they faced daily; especially as the threads of their daily lives were sewn into the fabric of the criminal underworld. Definitely, not a Cinderella fairy tale. Image credit: By Source, Fair use, en.wikipedia.org/w/index.php?curid=35030913

A handsome entry in the Indian drama movie niche between pure Bollywood and indie art cinema, "Chandni Bar" confidently re-tells a favorite theme — the tragedy of characters doome…
3 responses

• Toccoa, Georgia
21 May 17
I have never watched a Bollywood movie. Are they real good, like if you start and watch one , you become addicted and want to watch many more?

• Austin, Texas
22 May 17
If you like musicals you will like Bollywood films. The story is Indian folks saw American musicals and decided that all of their movies should be done that way. I don't know if that's a true story but if you can't act, sing and dance, I don't know how you could a be a success in Bollywood. You gotta be a triple threat! I would like to suggest two movies. They actually have a British girl in them. But the movies were great! The girl's name is Amy Jackson. Both films are both love stories. ~ Madrasapattinam (2010) - In this one the lady is a photographer. When it starts she's old lady and it goes back over her life. ~ I (2015) – I got attracted to this movie because one of the videos looked sort of "Beauty and the Beast" so I wanted to know more. It wasn't a Beauty and the Beast fair tale. But it was a good movie! Also, if you like any one of the Khans - just pick a movie with Aamir Khan, Shahrukh Khan or Salmaan Khan. These guys got better with age.

• Toccoa, Georgia
22 May 17

• India
16 May 17
I did not watch the movie, what is that you did not like , what was you hoping?

• Austin, Texas
16 May 17
If I say what I was hoping for, it might be a "spoiler" for others who want to watch the movie. Let's just say the ending was not what I expected.

• United States
20 May 17
I do not see many of these films, but I do like them when I do. Like you, I love the Korean dramas too along with these.