The Barron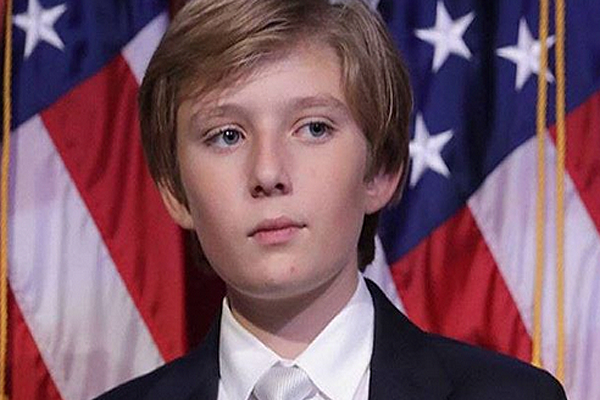 Boise, Idaho
May 16, 2017 8:07pm CST
Trump's 11 year old son, Barron, recently took 80 of his fellow Columbia Grammar and Preparatory School mates to the White House to show them around. They were all escorted by Secret Service men. The president gave a speech about doing the best for the country and living up to your potential. Next year Barron will be going to St. Andrew's Episcopal School in Potomac, Maryland. This school is known for being "dedicated to exceptional teaching, learning, and service" the first lady explained in a statement. Barron has been staying with his mother in the Upper West Side of Manhattan to finish out his school year.
8 responses

• Ft. Lauderdale, Florida
17 May 17
Sorry but I don't feel Barron should be talked about in social media.

• Summerville, South Carolina
17 May 17
I agree. It's hard enough being a preteen without the added attention.

• Boise, Idaho
17 May 17
@BettyB
.....It was a very nice article. Rarely see anything about him.


• Boise, Idaho
17 May 17
I do too. He is a good looking kid and seems nice enough. I wonder how he does feel about what is being said.

• Atlanta, Georgia
18 May 17
@celticeagle
Kidsl listen and take in more than we think they do.

• Boise, Idaho
18 May 17
@RubyHawk
......Yes, they do. Sad.I hope he sees how things are.


• Bangalore, India
17 May 17
I hope he doesn't grow up like his father and has a good role model rather than his father.

• Boise, Idaho
17 May 17
I do too. He does have a lot of his mom's influence.

• Moses Lake, Washington
17 May 17
@celticeagle
My question about his Mom: what is in her that she married Trump??

• Boise, Idaho
17 May 17
@sallypup
....I wondered that too. I think she is smarter than we give her credit for. I have married a few times to learn and not to love. Maybe she is doing the same.


• United States
17 May 17
I hope he will enjoy his new school and will be well received at the institution. I am not too impressed (read: Not impressed at all) by his father's recent actions but I do hope his youngest won't suffer for his father's decisions.

• Boise, Idaho
17 May 17
I haven't been impressed by his dad for several years. I hope he does better.

• United States
17 May 17
@celticeagle
I've been watching the news on him lately... My constant question is "Why has he not been impeached yet?"

• Boise, Idaho
17 May 17
@ScribbledAdNauseum
......He hasn't been because they don't have enough on him. No one will give him up. It is getting worse each day. The republican party is an embarrassment. Not enough people wanting to do what is right. I hope this reflects on them when it comes time to vote for them back in office. Justice is slow. Getting enough evidence is a long job.


• Boise, Idaho
20 May 17
Yes, me too. But found this rather cute that Trump's son showed his class mates what his dad does. Interesting situation.

• United States
25 May
One can only wonder who will have more influence on his future - his mother or father? So far, all of Trump's children seem to be under their father's spell.

• Boise, Idaho
26 May
Yes, but Barron is away and with his mom a lot. Hope he is smarter than the others were.

• United States
29 May
@celticeagle
Isn't he going to be moving to Washington with his mother to go to school in the area? I thought that's what I'd heard. But who knows what the truth will be.

• Boise, Idaho
29 May
@CRK109
.......No, he has been staying there in N.Y. to finish school. Next year he goes off to Maryland to the school I mentioned in the post.



• Boise, Idaho
23 May
I'm glad he is not around Trump everyday.

• Moses Lake, Washington
17 May 17
This boy sure is not getting a good role model on how to be.

• Boise, Idaho
17 May 17