We have tenants!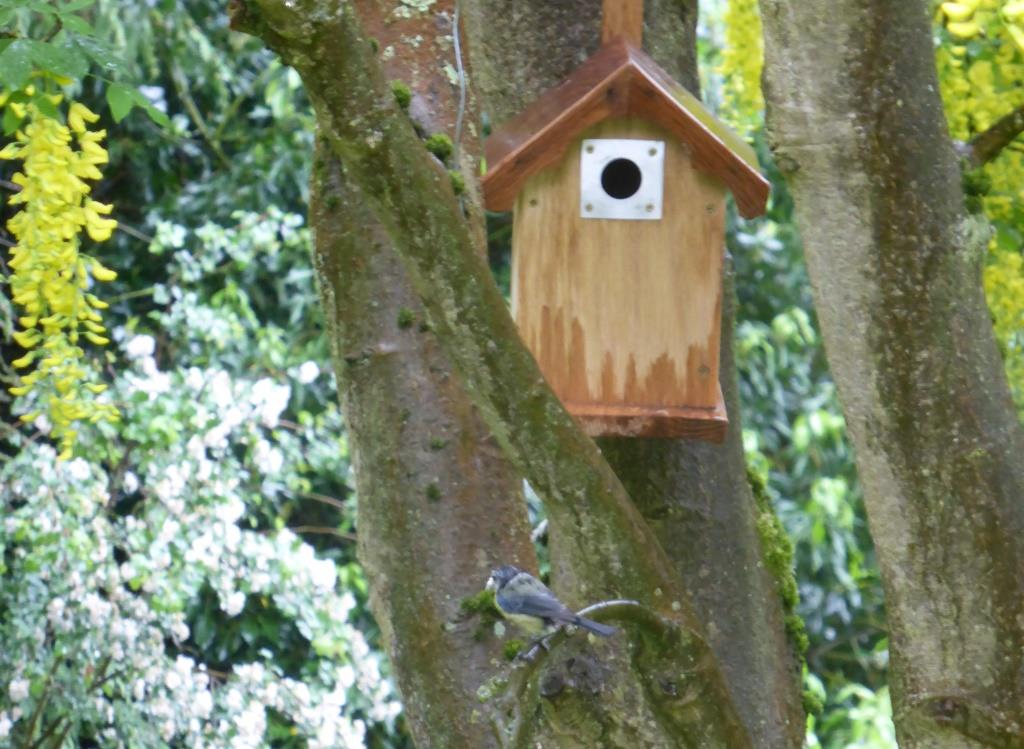 United Kingdom
May 18, 2017 6:01am CST
Earlier in the year I bought three new birdboxes. Then of course I didn't get around to putting them up for a while, until I was afraid it might be too late. But once I eventually did I was pleased to see a bluetit examining one of them. It flew to a nearby branch, had a look at the outside, flew a bit nearer, looked at it from a different angle, then it went inside and looked around, came out and examined the outside again, then flew off, presumably to report back on whether it was a desirable residence. Whatever the test was, the box must have passed because although I wasn't sure for a while (those little birds are so quick and quiet going in and out that it's surprisingly hard to spot them) I can now hear excited cheeping coming from two of the boxes, and I've seen a parent bird coming and going. The three boxes have different-sized holes, supposedly (according to the RSPB – Royal Society for the Protection of Birds) to cater for different species, but it seems that bluetits have chosen two of the boxes anyway. I'm not sure about the third, I haven't seen or heard anything yet but you never know. What I was really curious about is – how does a bird evaluate a potential nest site? The box is simply a plain, empty wooden box, but even so when the bird went inside it spent an inordinate amount of time in there. What was it thinking? It couldn't really have been wondering whether the furniture would fit or if it would need to change the décor, surely? All rights reserved. © Text and image copyright Fleur 2017.
8 responses

• Northampton, England
18 May 17
I can't have bird boxes with killer cats on the prowl but I was very happy recently when all the eggs laid in my bee boxes started to hatch.

• Northampton, England
18 May 17
@Fleura
There are apparently hundreds of types of so-called solitary bees. Many are what sometimes get called 'mason bees'.


• Malaysia
18 May 17
That's really cute and awesome

I don't install any box. But occasionally, wild birds would make a nest in my backyard. We have a rule not to shoot or disturb them. We even told outsiders not to hunt in our backyard. That help the birds to live peacefully.

• United Kingdom
18 May 17
When I was growing up we used to have a wren that returned every year to nest just above our mail-box (which was in our garage). A few years ago my Mum discovered a spotted flycatcher had made a nest on the top of a broom, which she had left leaning, bristle-side up, against the wall outside the back door!

• United States
18 May 17
Different birds need/like different types of birdhouses. We have a lot of bluebirds i this area and there are bluebird specific bird houses.

• Philippines
18 May 17
I guess bird houses need to pass a bird inspection.


• Goodfellow, Texas
4 Jun
@Fleura
- Careful bird, that one. Your photo shows it cheking out its new front yard. -Gus-

• Bunbury, Australia
18 May 17
Maybe it was considering if there were any draughts or if the box was facing the optimum direction for its needs. Who knows?

But it's lovely that two of the boxes now are 'homes'.

•
31 Dec
Maybe it was checking out to see if can have a nest in there.