OK. She Fixed It! Sometimes We Trip Over Our Tongues. It Happens!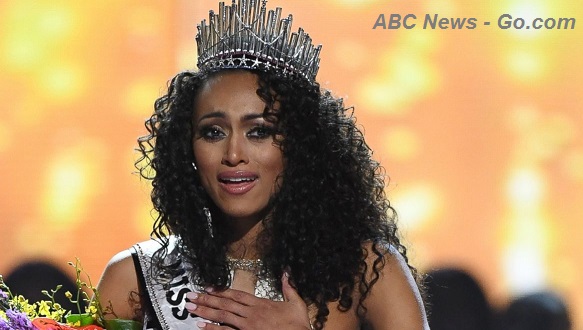 Austin, Texas
May 18, 2017 6:36pm CST
So they crowned this lady Miss USA and for the first time in my history of watching the beauty pageants, which I don't really watch, I was livid!! Pissed off!!


I don't watch the pageants. I wait until the end to see who the finalists are and listen to the questions asked and how they answer them. Yes. My theory is the pageant is rigged and very political. I watch the Q&A segment just to prove my theory is true. I figure I can guess the winner by the question asked, the response given, and whether it not it supports the current political environment and agenda in America. Never proved my theory. But so what! Miss District of Columbia was asked a question about healthcare and her response totally infuriated me! In fact, I was certain that based on that response she was going to lose. But they crowned her anyway! Then I hit the ceiling!! She said affordable healthcare is a "privilege". I'm like:
Oh no she didn't say that!
Driving a vehicle is a privilege. Healthcare is a human right and everybody should be able to AFFORD IT!!! No matter how much it costs!!! So here's this article clarifying Miss USA's BIG BOO BOO!!
Miss USA Kara McCullough clarifies health care comment: 'I do believe that it should be a right'
Yeah whatever! It just proves the contest is rigged.
You're not going to tell me the judges didn't hear the same thing I heard her say.
But they passed her through anyway and gave her the crown.
RIGGED!!!





Newly-crowned Miss USA Kara McCullough clarified her remarks on health care that had drawn ire on social media, saying she believes health care "should be a right" for all. "I am privileged to have health care and I do believe that it should be a right," M
8 responses

• Lake Charles, Louisiana
18 May
I know what you mean. Beauty pageants in my opinion are set ups to crown the puppet of the promoters.

• Lake Charles, Louisiana
18 May
@cmoneyspinner
There are some pageant historians who said that when Vanessa Williams won the Miss America pageant in 1983, it was rigged for her to win so they could have a Black woman as Miss America. Howard Stern has mentioned that on his radio shows many years ago.

• Austin, Texas
19 May
@Deepizzaguy
- I'm not a pageant historian but I definitely say that one was rigged for sure!! It wasn't rigged for a black woman. It was rigged for Penthouse magazine to make a lot of money. But I knew it was rigged because the 1st runner up was also a black woman. What are the odds? Come on! Let's be real!


• United States
19 May
Nearly every city in America has a hospital named after a denomination (Presbyterian Hospital, Baptist Hospital) or saints. There's a reason for that: Christianity believed that it was their duty to ensure that "the poor" always got healthcare, even if they couldn't afford it. They started those hospitals, funded them, and ran them for decades, if not centuries. What happened to that? (My opinion: churches became more self-centered ["we need a bigger gym!"] than God-centered and, by extension, neighbor-centered.)

• Austin, Texas
19 May
A while back somebody was chatting with me on Facebook about healthcare, about setting up a system of healthcare. I seem to remember responding that they needed to talk to people who know about healthcare. People like … the Catholics!!

• United States
19 May
@cmoneyspinner
-- being chained to the VA, I think it'd be much better for people who are compassionate like churches to deal with it than cold, heartless bureaucrats!!

• Austin, Texas
19 May
@FourWalls
- I agree. I am ashamed of this country's healthcare system and especially the way veterans are treated or rather
mistreated
. What makes me really angry is that I know there is no excuse or justification for this. This struggle to put a healthcare system into place for all of its citizens has been going on since the nation began. But after 200 years, and we are so intelligent, I don't see why we can't put one in place. Actually I do see it. In my mind, healthcare is big business in this country. It's not about saving lives or truly caring for the sick. It's about money.
That is sickening!
Cold and heartless too. But really sickening!



• Banks, Oregon
19 May
I wouldn't have picked her.

• Austin, Texas
19 May
When I tuned in to the show there were 5 girls on stage and I wrote her off. I was thinking: "Oh no! Not her!!" As far as I'm concerned, she's still written off. I'm not wrong! No way she should have gotten away with that CLEARLY WRONG ANSWER!! That's like saying George Washington invented democracy.

• United States
19 May
That is a very incorrect answer, I don't care how one looks at it. Yes all should have access to affordable health care which does not exist as we know.

• Austin, Texas
19 May
Ah hah! So I see you had the same reaction to her response that I had. I was upset. My husband told me to calm down. It's just a beauty pageant.

• United States
19 May
@cmoneyspinner
lol yeah

She was obviously coached to speak those dumb words.

• United States
18 May
She certainly misspoke. I wonder also...she is a woman of color. Had she been blonde-haired and blue-eyed, would we have had the same reaction or might she have been crucified for having said it? Ms McCullough has been given an opportunity to clarify what she meant. Either way, I cannot stand pageants, as I already think it is rigged and people are "...(given) the crown."


• Philippines
19 May
so sad that i just watched who was crowned Miss America 2017 last night, and not listened intently on the question asked ans her response.