Quality or Quantity with price tag...Which one you prefer?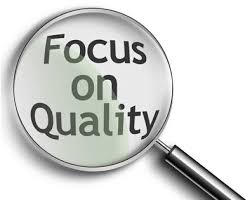 India
May 19, 2017 4:39am CST
Hi to all Mylot friend's.... yeah...Shopping has become an integral part of our life.Many products are sold with different quality as well as quantity. Especially it's true regarding the clothes and shoes.I always prefer quality than quantity...It gives some satisfaction that we bought some useful and worthy product... What about you?
7 responses

• Germany
19 May 17
I agree with you..I always prefer quality when it comes to clothes I will wear outside but I also buy clothes that makes me feel comfortable and confident when I am wearing it



• India
19 May 17
@m_audrey6788
you are welcome


• India
19 May 17
True..But even among quality I need to keep an eye on prices

• India
19 May 17
Yeah...You're right.But I wonder for Oil products...Branded Almond Oil has high quality but expensive meanwhile low brand has high quantity but cheaper than this.Both are prepared from almond. Why do such things happen?

• India
19 May 17
@manikarnika
I think the amount of actual almond in the oils differ. Same with sandalwood oil

• Samoa
29 May 17
I'm always for quality rather than quantity. I always looks for durability and functionality.


• Hyderabad, India
20 May 17
i would only perfer quality , i want to use for long run and make use of my money which is worth-able at end of day with out waste it ,

•
19 May 17
First I see my budget and then choose quality

• India
19 May 17
Yeah...That's nice. We too see budget for Groceries.we buy only required quantity of items with quality.