Stick a Fork in Him, He's DONE...(isn't he???)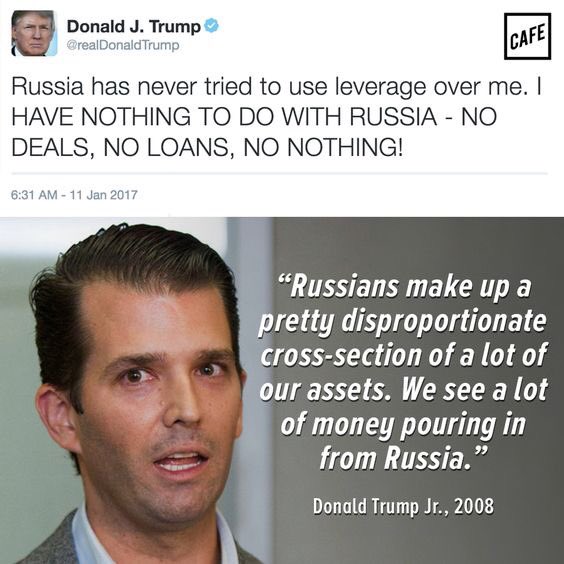 United States
May 19, 2017 4:27pm CST
What a week, or I guess I should say 10 days or so!! It's not just that there's a new scandal every day, there's a new scandal every HOUR!! Just in the past couple hours we've learned that: Trump told the Russians that firing "nut job" Comey will ease the pressure of the Russian investigations... A current White House insider, someone close to Trump, is now a "person of interest"... The investigation has turned into one over a cover-up as well as possible collusion. No other President would have survived up to this point and certainly none would survive just ONE of these more recent developments. Where are Republicans with integrity who put country before party like Bob Dole and Barry Goldwater when we so desperately need them???
6 responses

• Bunbury, Australia
20 May 17
It will be interesting to see what happens next.

• United States
20 May 17
I know I've been wrong before, big time, for one thing I never EVER believed he could be "elected" but I sure hope I'm right this time when I say I can't see how he could possibly finish out his term. The country and the world can't possibly deal with this kind of turmoil for another 3 1/2 years!

• Bunbury, Australia
21 May 17
@anniepa
Maybe he'll give them grounds for impeachment soon.

• Redlands, California
19 May 17
My sister just told me about this. Nut job, because he has more integrity in his pinky finger than Trump.It really is honor reading up on a true patriot not those fake flag patriots. So proud even though he screwed Hilary, but understand where he was coming from with that. I also love his answer to that, brutally honest.

• United States
20 May 17
Isn't it awful that the so-called President of the United States (NOT mine!) is so thin skinned and immature that he'd call an honorable man like Comey a "nut job"? He acts like a middle school kid, even worse than that. I agree about Comey, I was also upset about what he did to Hillary but I get that he's always been truly non-partisan as someone in that position must be. He's had both sides mad at him so he must be doing something right!


• Canada
19 May 17
A megalomaniac is a scary and dangerous person to govern a country.

•
19 May 17
Mr. Trump is slowly sinking down and God forbid I hope he will not bring America down on the bottom of the ocean.


• United States
19 May 17
If he's not removed SOON he'll destroy our democracy completely. We're in a Constitutional crisis the likes of which we've never seen before, certainly not in my lifetime. This man is nowhere near fit for office, he's totally incompetent and I think delusional.

• United States
21 May 17
What scandals are you speaking of...... Did you hear Trump say he told the Russians that the investigation would lesson......Or are you hearing that from some one that said that they heard him say it.... Who said that their is a person of interest........Or is that just more speculation by the news..... Obama and hillary both survived much more than Trump will ever have to.....No collusion has every been proven.....But we all heard what obama said to the russions... In 2012, President Obama was overheard over a hot microphone telling President Dmitri Medvedev of Russia he would have "more flexibility" to negotiate with Putin after the election. President Trump is putting America first.....

President Obama got caught in private conversation with a hot mic today in Seoul, South Korea, telling outgoing Russian president Dmitry Medvedev that Vladimir Putin should give him more space and that [a]fter my election I have more fl

• United States
21 May 17
"President Trump is putting America first...."...You can't be serious! Come one, Donald Trump has never put anyone "first" above himself. Try asking people from New York and New Jersey who have known all about him for decades what kind of a scumbag he is. Look at how much he and his daughter and son-in-law have already bilked from the taxpayers since taking office. Were you aware he's already "billed" us taxpayers over $35,000 just for golf cart rental and that the fees go right back to HIM since he's done all his golfing at his own properties? That's just the tip of the iceberg. Of course I didn't personally hear Donald say those things but somebody did and told some very reputable investigative reporters from a very well regarded and respectable newspaper. I guess he's not smart enough to know there's no such thing as privacy in the Oval Office, everything is documented. That's actually beside the point since everyone heard him say on at least two occasions that he fired Comey because of the Russian investigation and Sarah Sanders said in a press briefing that hopefully that would bring the investigation to a quick end. What President Obama said to Medvedev was no big deal whatsoever. Obviously he'd have "more flexibility" after the reelection campaign was over because that would mean he'd definitely be there for four more years.

• United States
22 May 17
@anniepa
I do not have to ask anyone about Trump...I can see what he is doing and trying to do with my own eyes... If he golfed somewhere else those fees would be payed all the same, just like for all the other Presidents before him.. who is the someone that heard him...does it say in the story....If so who is it.. So Sara Sanders said it....and she did not say it would end it but she hoped it would come to quick end....I for one hope that it comes to a quick end now...Because for over a year we have been hearing one thing or another with no proof of anything... You say what Obama said means nothing....I would bet all i own that if Trump said it you would want him hung for it......

• United States
22 May 17
@dlr297
NO OTHER PRESIDENT before him golfed as often as he has. Can't you see what's going on here? He's benefiting from his office, making money for his properties from the taxpayers. WHO heard him say it, I'm assuming you're referring to the firing of Comey being because of the investigation? I HEARD IT. Didn't you see his interview with Lester Holt? Or with that awful Judge Jeanine? Haven't you read his tweets that have been shown on TV many times?