Saturday's Catch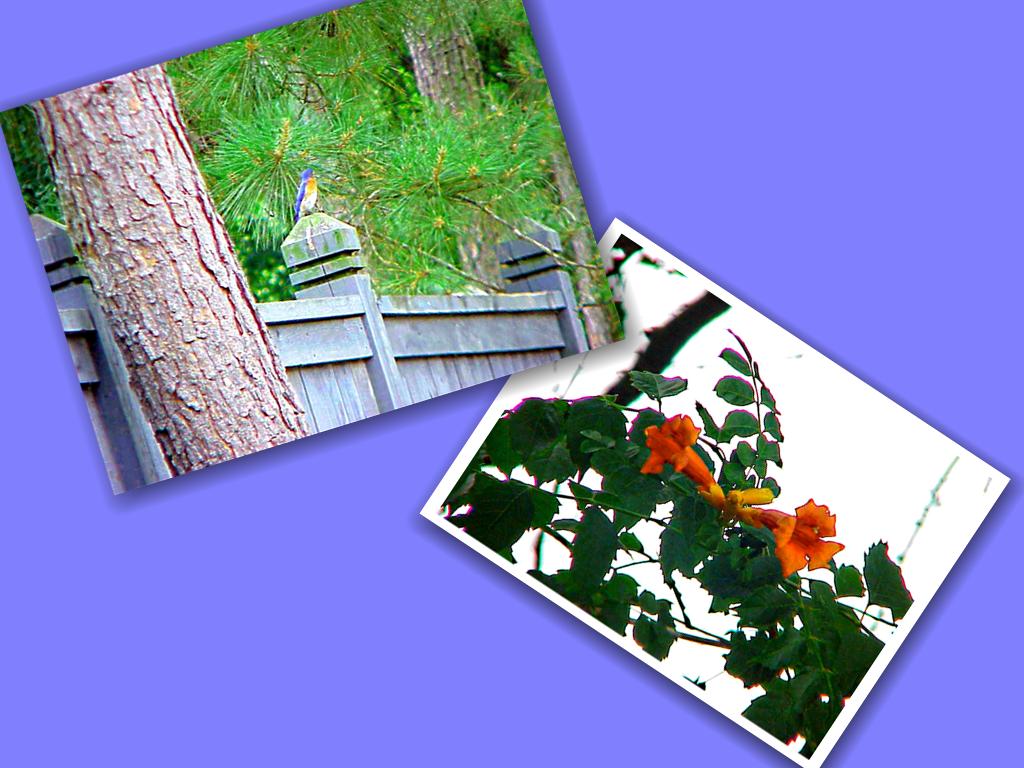 Goodfellow, Texas
May 20, 2017 3:48pm CST
Saturday's Catch - Today was not the best photography day this world has ever seen, but it will have to do. After all, it is the only Saturday for today - no more of those Saturdays are expected to show up this week. After checking for mail at the mailbox, I took off down the trail by the tall, gray fence. What I found there was some stuff that I had not found hanging around here before today - and so I will stop complaining about the lack of bright sunshine. Those who would make photographs have to do whatever they have to do - bright sunshine or the lack of it. I had not seen a bluebird hanging around here before today. Maybe it is so that bluebirds don't go for bright sunshine. I do not know about that, but seeing that bluebird did brighten up the day for me. "My luck is with me today, young man. Take all of the luck you can get and run with it." And the good luck kept up the pace. I came across some vines with flowers - big, bright flowers - sort of red-orange in color. I looked them up on one of the Internet search engine things. These are called "Trumpet Vines, - and no wonder. The flowers look like brightly colored trumpets. By now the wind was up and blowing, making the trumpet vine flowers jump around. I'll go back to those flowers another time so as to see if I can't get them into sharper focus. The image I got today will have to do for now, however. Gray and cloudy though today might have been, It was a reasonably decent day on which to have the old camera make an attempt, anyway. Image: Bluebird on the fence and some flowers of the Trumpet Vine - Gus Kilthau
7 responses

• Delhi, India
22 May 17
The pictures are awesome and speak of your skill.



• Goodfellow, Texas
24 May 17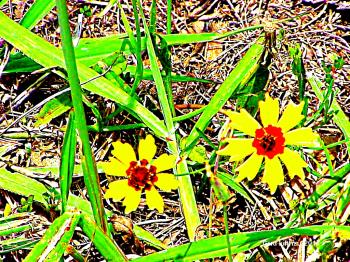 @dpk262006
- Transferring those things seen with your own eyes into images that you can see again and again as photographs is pretty much what it is all about. For instance, that image you just posted here - the mountain, the village, the street, those mysterious "boxes" along the highway - all show that your mind was hard at work "framing" your image and that your leg and arm muscles were also hard at work getting your camera to a vantage point above the scene to allow it. Where I am located, we have no mountains, but there are many views to be captured with a camera - big things (vistas and buildings,etc), forests, city scenes, and tiny objects that can have some interest and beauty to them if you can cause their images to be large enough to be better viewed - such as the tiny flowers pictured in the photo I just now posted here. (Compare the flower size to the blades of grass in the photo...) The old saying is that "seeing is believing." My own saying is that seeing is lots of fun. Gus.

• Delhi, India
26 May 17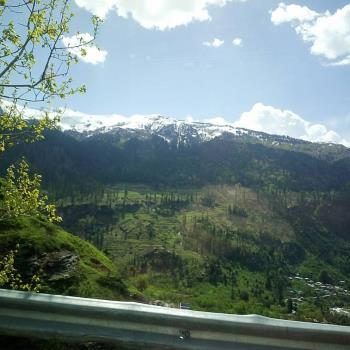 @Ceerios
The view of large shopping center is awesome

. You have done a splendid job.

Yes, you could share with me the software which helps in stitching the images together. Here is one more picture. PS - Are you on Instagram?

• Goodfellow, Texas
26 May 17
@dpk262006
- You are so fortunate to have such photogenic vistas close at hand for capturing with the camera. I don't mess around with "Instagram." You can download a fine panorama-production computer program from the Microsoft website on the Internet - "Microsoft Image Composite Editor" (commonly called "ICE") It is very easy to use, is free to download and to use, and can make use of images produced in digital cameras of most kinds. The images you enter into the program are captured by you in a consecutive order, ROTATING the camera from left to right or from right to left - and if you have to add additional rows vertically, you complete each horizontal row and then produce the next horizontal row above (or below) the previously-completed horizontal row. (Imagine a pattern laid out like some sort of crossword puzzle matrix. ) Most of my panoramics are completed as a single horizontal row made in a left-to-right direction, but if necessary, I will add another horizontal row above or below the first row. Each image is to be overlapped by the previous image by about 15% to 20% and each vertical row by that much, too. The reason for the overlapping of images is to provide the computer program with image points of identical nature and position. Having those identical points permits the software to stitch the multiple images together "seamlessly." The greatest number of images for a single panorama I have used thus far is 24. Mostly I use my body as a camera tripod, but a tripod helps to keep the camera pointed in a single plane for shooting the entire row (or image row by row if more than one row is employed.), It is also possible to shoot a row of images while keeping the camera firmly pointed in one direction and on a fixed plane. The whole camera is then moved down a line (on that plane), making overlapped images as the camera goes along. For example, the line moves down the street as you shoot image after overlapped image of the houses along the way. For this kind of image-making, the camera's vertical height must be controlled and stable. The "ICE" program knows the difference between the "camera rotation" and the "camera location" methods. Both methods work well for outdoor (vista) panorama-making, indoor (up to 360-degree capture) room and building structure imaging, and even in macro-photo-making so as to offer the viewer greater detail from images of various-size objects (flowers, nuts and bolts, a strawberry, etc.). For example, had you snapped 3,6,10, etc.) pix of that mountain scene, rotating your camera in one direction but without pointing it up or down (keeping the lens pointed along the same plane), your scene might have included a whole mountain range instead of only a single mountain. Recently I put a composite image of a local "nature trail" here on MyLot (which see) and made a collage of the individual pix plus the panoramic image. The camera was rotated in one direction for each of the several images produced, and all individual shots were stitched together for the composite. There are other panorama production computer programs available to you at no cost at the website, "SourceForge.Net." None are quite as easy to use as is "ICE." ("ICE" is not on SourceForge." ) One trial program (free) can be found at the website of "Serif.com" As I recall, that program has the title, "Panorama Plus." Another freebie is "Hugin" which is a great piece of software but requires more work from you to use it. "ArcSoft" produces yet another program, but I believe that there is a cost to it. Even camera-maker, Canon, has panorama software. One time I downloaded their "upgrade" for that one over the Internet from Canon's website. Have fun making panoramic pictures. -Gus-


• United States
21 May 17

• Goodfellow, Texas
21 May 17
@andriaperry
- Well now. I was just about to type in "Thank You for the nice compliment," but I was not sure whether you were referring to ME or to those pix.

BUT I do thank you and hope that everything that you look at henceforth will be and stay "absolutely beautiful." -Gus-

• Bunbury, Australia
21 May 17
Those flowers are so pretty - and how nice that you saw a bluebird.


• Bunbury, Australia
22 May 17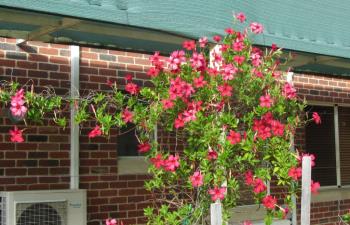 @Ceerios
Do you know if it is also called a 'mandevillia'? I have two on a trellis at the side of the house but now I've checked the photo they are a bit different - not so trumpet-shaped. .

• Goodfellow, Texas
22 May 17
@JudyEv
- Ms Judy - The Trumpet Vine flowers are very much "trumpet shaped." I do think that your mandevillia is most colorful and more "flowery."

• Bunbury, Australia
22 May 17
@Ceerios
Once I found my photo I realised the mandevillia flowers aren't nearly as trumpet shaped.

• United States
20 May 17
So lovely they are Gus cloudy or not. I love your photos and I bet that walk was a nice one. It was great to capture those two. I love the tree in the background also. I hope you are doing okay today.

• Goodfellow, Texas
20 May 17
@TiarasOceanView
- It doubles my pleasure in shooting pix whenever viewers enjoy the images. The walk would have been a nicer walk had I actually walked. Mostly I get around the area on my little electric mobility scooter. Those scooter things make for lots of fun - as do the old cameras and the photo subjects that somehow manage to get in front of their lenses. A friend of mine gave me my two really old digital cameras and threatens to give his current camera. He says that he only wants to use his photo-making cell phone and not his camera. It is amazing to me, but there is no point in trying to convince an onion to try turning into a strawberry, is there? Just finished eating a big peanut butter and banana sandwich, so how much better could things get in only one day? -Gus-

• United States
20 May 17
@Ceerios
Aw Gus yes those scooters sure do get around, I often wish I had one lol

mm that sandwich sounds delicious. Yes you mentioned the friend who might gift you with another camera, would be really nice. You could use it and we could love the photos too! So is the camera you use a digital one? You get these photos up real quick like its great!



• United States
20 May 17
@Ceerios
Yes that is the only problem..one never knows what you get online..too bad that did not replace the other one. Okay go eat more sammich Gus





• Goodfellow, Texas
20 May 17
@MALUSE
- "M.-L." - Your European blackbirds are wanderers. I saw one of them high up atop a tall tree just yesterday. He was evidently not native to Europe in that he was tweeting in Bengali and hopping about on the branch in some sort of Argentinian trot or other...

-Gus-

• Goodfellow, Texas
21 May 17
@MALUSE
- "M.-L." - I was going to ask the blackbird how it made the trip over the ocean. But I spoke no Bengali and thus I saw the lack of sense in asking. I assume that the bird was smart enough to utilize some sort of public transportation. [The bird did have a managerial look about it.] :-) -Gus-

• India
27 May 17
I like both the photos.have similar flowers here too

• Goodfellow, Texas
27 May 17
@responsiveme
- Thank you, Friend ARM (
@responsiveme
). What do you call your flowers like these? A fact of Nature is that beauty can kill; that is, the trumpet vine produces pretty flowers, but the vine will eventually cause the end of the host tree. -Gus-

• India
28 May 17
@Ceerios
I don't know the name but people grow it over trellises and archways made of bamboo and also fences

• Eugene, Oregon
20 May 17
Nice shots Gus and it is always good to see bluebirds. We planted a trumpet vine in back last year and it is blooming well.

• Goodfellow, Texas
20 May 17
@JamesHxstatic
- Brother James - I was happy to bump into both the bluebird and the trumpet vine, both if which are "new" to me. That may be strange for, at my age, I have been around here plenty long enough to have seen both of them many times - but have not until today. Strange how some things work out, isn't it? -Gus-