inspired or copycat?

Indonesia
May 21, 2017 4:58pm CST
I just started to make a doll, cloth doll/fabric doll and still make some change here and there. There's this doll creator come up with the idea of interchangeable eys and mouth, so one doll children can change the face ekspression by changing the eyes and mouth. I started making the same doll with her idea, but I did not like how it turned out, so I draw my own doll base pattern (head to toe) and using japan comic book as my refference for the ekspression. It's unevitable that some of the eyes n mouth ekspression of her doll and mine are similar though I use comic book as my refference. She following me on my instagram of my craft account, I sent her message that I really like her doll and if it's ok if I make and sell ekspression doll too, but with my own pattern of course. She repplied "Seems like you are already selling them. Not very original since you're copying my dolls, good luck" I still not reply her. Im still confusing if Im copying hers or I'm inspired by hers. Years ago I read crafter blog's post about copying and plagiarism and she wrote that many crafters are inspired by other crafters too, but it's better to adjust the pattern/idea from the original maker to suit your craft taste than to copy the idea 100%. I went to etsy forum that talking about this copying/plagiarism issue. Mostly admit that mostly crafters inspired by others crafter/something, and it's unevitable, and some make better/worst than the original idea, some sell with higher/lower prices, what best to do is to give your own style/adjust the idea. So here I am thinking if I am copying hers or not. The part "you're copying my dolls" quite bother me, cos I thought I already make a lot of adjustment . I use different fabric/material to make the doll, use different way to make the eyes and mouth attachable to the face, I make different doll base pattern (totally different) and the outfit also different. Am I copying her doll as "whole" when I use her idea for the eyes and mouths? I really need some perception/thought before I write her a reply. thank you...
2 responses

• United States
21 May 17
Well if she is saying your idea is not original and she thinks you copy her, just make sure your dolls are not exactly the same. And by the sound of it, they are not, so there is no problem with it. Yes, crafters are inspired by each other, so it is not copyright problem that I see (this is not legal advice)

It is like myLot, sometimes people talk about the same discussion, it happens. I wish you luck with your new dolls.


• Indonesia
21 May 17
thank you for your thoughts,,, here I add the pictures to compare our dolls. The dolls in purple is mine. Hers is the trio in different style. What do you think?

• United States
21 May 17
@mrswhitfield
I see the dolls below, and in fact, it is my opinion that your dolls are much more appealing to the eye, and are indeed very different from the other ladies. I like the purple dolls the best, especially with the teddy bear, a very nice touch.




• Indonesia
21 May 17
@TiarasOceanView
thank you for your kind words. May be add the teddy as part doll set will be my next move

If you are my neighbour I will give you the teddy



• Roseburg, Oregon
21 May 17
I would not think you are copying hers if yours is different from hers.

• Indonesia
21 May 17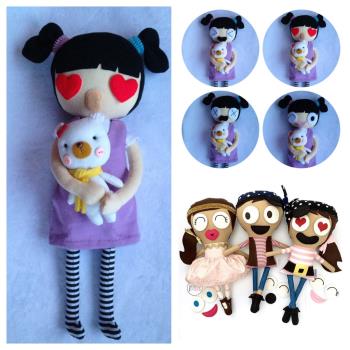 thank you for stopping by and give your opinion. If you don't mind looking at the picture I add below... the doll in purple is mine,, and hers is the trio in different style