For those of you that have pets, do they feel comfortable with less or lots of people around?

May 21, 2017 11:16pm CST
My cat is a great hunter, but, when it comes to too many people in our home she goes to her special place and hides. There are times I thought she ran around and went searching for her and then when I knew about her special places I checked and she was not there. She goes deep under cover. It is very hard for too much noise for her.
5 responses

• India
22 May 17
Cats are sensitive animals. They're afraid of people, at least my cat is. They have trust issues

. That's why they hide when they see a lot of people.

•
22 May 17
Shravya, yes they are very sensitive and their hearing is so much better than ours. My cat I had before was afraid of too many people too.

• India
22 May 17
@Hannihar
yeah. I don't own a cat but a stray one comes to my home everyday for milk. She was pregnant so we made her a home out of a cardboard box but she didn't even come near that. Then I realised that it doesn't trust me..


• India
23 May 17
@Hannihar
thank you. I believe in taking care of animals. They need us..


• Bunbury, Australia
22 May 17
Many animals do not like a lot of people around. My pet sheep likes to meet new friends but he will take himself back to his paddock if it gets too busy.

•
22 May 17
Wow, Judy, you have pet sheep. Do they talk to you alot? Do you live on a farm? What other animals do yo have?

• Bunbury, Australia
22 May 17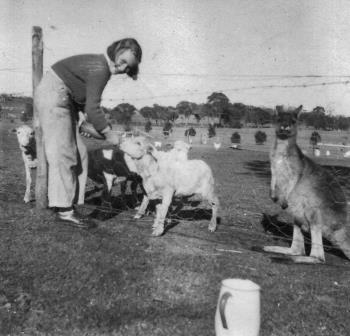 @Hannihar
We only have Hercules now but he is very quiet and likes to be near us if he can. We live on 18 acre but we don't farm it. We have lots of wild kangaroos which come and go but no other animals. I was brought up on a farm and had lots of pets when I was young.

•
22 May 17
@JudyEv
Judy, is that you in the picture?


• Philippines
22 May 17
We have 4 dogs and they had been socialized but only to people of the household.

•
22 May 17
louievill, I understand that. How do they react to strangers?

• Philippines
22 May 17
@Hannihar
they can diffentiate if it's someone we know but not part of the household like a relative and a total stranger. Its harder to calm them down with strangers and more watchful

•
22 May 17
@louievill
I remember when I had my dog she was very protective of her territory and very friendly. Our landlord at the time was selling the apartment so a blind guy came with his guide dog and my dog would not let her in but when we were out walking and saw a a blind dog my dog wanted to play with her. I explained to her that the dog cannot play because she is working.

• Moses Lake, Washington
22 May 17
Many cats are only comfortable with the people they live with. My husband and I are going on a little vacation tomorrow. The lady who lives with us will care for our three cats and two dogs and the house while we are gone. The cats and dogs know her but I am pretty sure the cats will hide a lot while my husband and I are gone. My big black cat especially loves on me but even after months of living with the lady, hisses a scared warning at her when he sees her.

•
22 May 17
Is the lady afraid to stay with the animals since the black cat does not like her. I remember before I had my own animals I was babysitting a friend's cat. It was a siomese and it acted very weird and I was not comfortable with it.

• Moses Lake, Washington
22 May 17
@Hannihar
My room mate is not afraid of our Sonny James- black cat- she just worries that he will not do well if he is under my bed the whole time I am gone. Its supposed to be hot but we have air conditioning. One of our other cats is a Siamese and yes, at times a Siamese can be weird. Our Siamese likes to touch his people and be with them so I am unsure what he will do! He mostly ignores room mate.

•
23 May 17
@sallypup
When I was getting my haircut from someone here in Israel. Her family had a siamese and that was when I had my cat and the cat looked right through me like it was looking into my soul and then it came around me and wanted me to pet it. Animals do know who cares for them and does not. What your roommate can do is put food and water and the cat's literbox close to the bed and the cat will go out and eat. I know from when I first got my Sophie I forgot what to do and a friend told me and it worked and I talked to her and eventually she came out. Maybe they will become friends.

• Roseburg, Oregon
22 May 17
My cat likes all people and sits on their laps if she senses they like her.