Family Cook Book & Recipes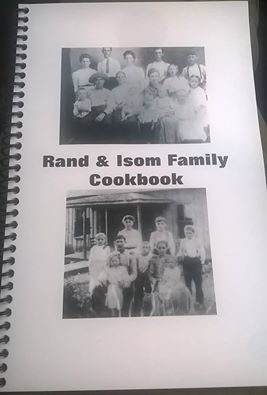 Banks, Oregon
May 22, 2017 3:48pm CST
Here is the cover for my Rand & Isom Family Cook. I have sold i think 64 cook books at 15$ apiece, there we're four separate orders some of them we're actually given out for free though. But i made a nice amount of money on it, and i was able to collect over a 100 recipes from about 40 different family members and there loved ones, there was many recipes donated by children of family members whom passed on, and each page has a little bit of info about the person whom wrote the recipe. Here is a sample from the page dedicated to my Great Grandma, with some of our families favorite recipes of hers. ----------------------------------------------------------------------------------- In Memory of Retha (Rand Smith) Her parents were Bob and Audie (Isom) Rand. She had four children, 16 grandchildren, and currently has 35 great grandchildren. Retha passed away in 2002. Tropical Apple Salad 1 Cup each diced unpeeled red and yellow apple. 1 Large Banana, peeled and sliced 1 Cup Grapes ½ cup walnuts ½ cup flaked coconut ¼ cup mayonnaise 1 tablespoon sugar ½ teaspoon lemon juice ½ cup whipped crème Combine diced apple, banana, grapes, walnuts, and coconut. Blend together mayonnaise, sugar, lemon juice, and dash salt. Fold whipped crème into mayonnaise mixture. Gently fold into apple mixture. Cover; Chill. Garnish with Apple slices, if desired make 6 servings. Zucchini Bread 3 Eggs 1 Cup oil 2 cup sugar 2 cub grated zucchini 2 tsp vanilla 1 cup chopped nuts Sift together in a small mixing bowl. 3 Cups flour 1 tsp salt 1 tsp soda 3 tsp cinnamon ½ tsp Baking Powder Beat eggs until light, add next 5 ingredients, Mix dry ingredients. Mix together until well blended. Divide into 2 large pans (greased) 350° 1 hour. No-Bake Chocalate Peanut Butter Cookies ¼ cup butter 3 cup sugar 4 tbsp cocoa ½ cup milk ½ cup peanut butter 3 cup rolled oats Combine butter, sugar, cocoa and milk in sauce pan – stir constantly over high heat for 5 min. Or until butter is melted. Remove pan from heat – add peanut butter and oats. Mix well – drop teaspoons onto waxed paper – allow to cool. Uncooked Candy 1 stick butter 1 can eagle brand milk 2 lb powdered sugar 1 package coconut 1 cup walnuts Step 1 - Add all the above ingredients into a large bowl, mix well. Shape into 1 inch round balls, place on wax paper. Step 2 - Then place into a double boiler one package of 12 oz chocalate chips, and 1/3 bar of paraffin wax and melt, then dip the balls into the melted chocolate. And place onto wax paper to harden. All of Retha's daughters, and some of her grandkids, and great grandkids continue to make this candy every christmas! It is a favorite of all of our family!!
8 responses

• Boise, Idaho
22 May 17
What a treat. Your family should be so proud of you for keeping up on family history and recipes like this.

• Banks, Oregon
23 May 17

• Boise, Idaho
23 May 17

• Banks, Oregon
23 May 17

• Denver, Colorado
23 May 17
64 sold is pretty impressive.

• Banks, Oregon
23 May 17
Yes not all at the same time though

• United States
23 May 17
Oh wow. Thats a good idea. And everything sounds so good!

• Hyderabad, India
22 May 17
I am really happy that you dedicated a page to your grandma. She must be a great and a very lucky lady. Wish you a very successful business.

• Los Angeles, California
22 May 17
Very enterprising of you and profitable.

• Chile
22 May 17
I think it´s wonderful! I tried to write a cookbook with my best friends some years ago but we were too lazy to finish it. I still use those recipes


• Banks, Oregon
23 May 17
Hey you can always finish it now I bet you have many more recipes you can add

• Anniston, Alabama
22 May 17
That is awesome! I am writing a cookbook to but its so much different than whats on the market today. Did you self publish? And edit yourself?

• Banks, Oregon
22 May 17
Yes did it all myself and it is spiral bound had printed at office depot, i have also did to Genealogy Family History Books that i published through Shutterfly.