Goat in The Meze - by Katerina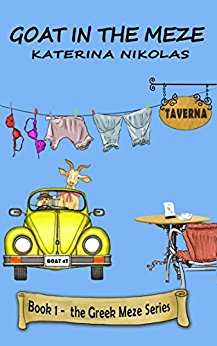 South Africa
May 24, 2017 1:32am CST
To all the wonderful writers and bloggers out there, writing a book is something that can happen - if you dream it, you can do it! Fantastic news as I logged in to myLot this morning, the message from Katerina to say that her book is NOW on sale on the Amazon.com site. Can you believe it . . . First it was Tong deLorger who has a whole series of books, then it was Lori, then Val and now Katerina! I am impressed! If the cover is anything to go by, we are going to enjoy this read. Maybe Joanna, who is the BOOK fundi amongst us, will be getting a copy of it as well. I am about to fathom out how to order my copy as I dont have a Kindle - but my daughter has one. I believe it is possible to download the book onto ones computer by free reader, (you still have to pay for the book) and then read it at your will on your ipad or notepad or computer. - Thanks to Malu for that information. MyLotters - this site does not just inspire people to chit-chat, it has gotten people motivated and eager to get published and I think its a wonderful way of getting the WORDS to the World! Congratulations Katerina! Bravo to you and to all the writers that have done so well since we have met them on Bubblews! Who would ever have thought!
10 responses

• Bunbury, Australia
24 May 17
This is such good news. I don't have a kindle either but I'm thinking about my options.

• Bunbury, Australia
24 May 17
@Inlemay
Thanks. That sounds like the way to go.





• United States
24 May 17
Yes congratulations to Katerina !

• United States
24 May 17
congrats to her'n all the others who've found some success 'n the wicked world 'f gettin' schtuff published :)

•
24 May 17
Well congratulations too Katerina!