Want to good at grammar in English?? Grammarly will help you.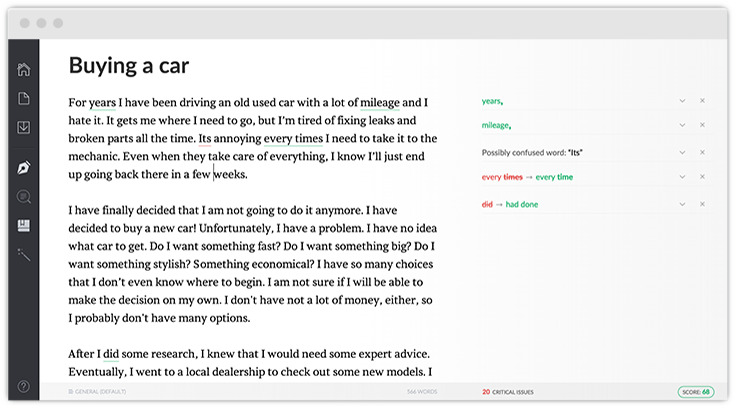 Vietnam
May 25, 2017 6:56pm CST
I jusst want to help a little bit for people needs to learn English better. Grammarly is a website/ app can help you fix the wrong words in you text and if you used it, you can learn a lot of things from it. It also inform you every week about your grammar, so GOOD LUCK!! Hope it helpful


5 responses

• India
26 May 17
I also checked this website a few months ago. It is a nice place to improve English.



• Vietnam
18 Jul
Yeah! You can download it on your phone. It has just had an app, so you can use it. You can use it on your computer too! no problems


I am using it right now! Long times ago.....~~



#alexjessi

• Dagupan City, Philippines
18 Jul
@alexjessi
really? Can i download that on my phone?

• Vietnam
18 Jul
@deadreak
Yes, you can. Go and type the name then download it

#alexjessi



• Vietnam
28 May 17
haha, lol!! Really?? Mobile also can't download it??

• Philippines
28 May 17
@alexjessi
I don't like downloading apps

I prefer sites that works on mobile browsers


• Vietnam
28 May 17
@AkoPinay
ok so here it's "Drought say" ( Idk (I don't know) what to say to you right now)


•
28 May 17
@alexjessi
Yeah, for my translation editing work.