this and that..5/27/'17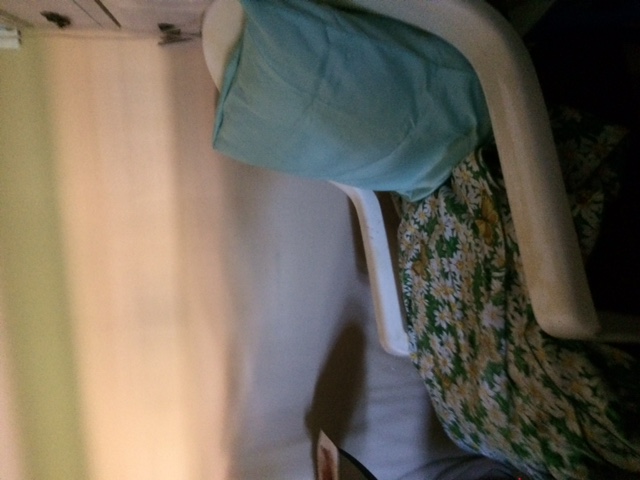 Holiday, Florida
May 27, 2017 4:49pm CST
So my office has actually been moved from being my bed to this chair and a standard small table in my room. a little more comfy ,but I still miss my computer chair and desk I had in AZ. where is your office? Most of everyone is gone today except daughters bf in their room. Daughter and grandson at work tilllate and grandsons girlfriend and her 2 babies at her moms. So trying to busy myself to not get so lonely and not miss my Coco dog. Was on FB for a while but soon got disgusted at a friends family members airing bad things on there at each other for the world to see. Then came here only to find that someone not even in the USA talking politics about our country, like they know something when even here most of us are not positive about what the media says. Am glad I already had blocked that person a week ago as they only came to my posts to drop in on every single response I got with a couple of words. How is that doing what we are supposed to be doing here. ?? good thing we can move on to better posts from better friends here. lol. Sitting here posting and reading and eating a small bag of Mott's assorted fruit medleys . Ever tried those? I buy them online and they are natural and quite tasty. Once in a while I take a break and catch up on the new episodes brought out this week by Netflix called Bloodline. Pretty action packed and lots of surprise twists in this family. anyone else watch it? hope all are having a nice day.
9 responses

• Boise, Idaho
27 May 17
Sounds nice. To have some alone time in the house. Some people don't know what a real 'response' is. I will have to check out this Bloodline you mentioned. Do you have Hulu too or just Netflix?

• Holiday, Florida
27 May 17
yes Hulu also. mostly i watch it but this week been watching Netflix more because of new episodes on some i like

• Boise, Idaho
28 May 17
@bunnybon7
....Have you been watch The Handmaid's Tale on Hulu?

• Holiday, Florida
28 May 17
@celticeagle
yes i posted about it and also responded to your discussions about it


• United States
27 May 17
We dont have an office. Just our rooms, and the living room. Hope you have a quiet good night.

• Holiday, Florida
27 May 17
guess your computer is in your living room? mine is in my room so i call where i have it my office. lol you have a good one also

• United States
27 May 17
@bunnybon7
no. My moms laptop is in her room, and mines in my room. We put them up when not using them.

• Holiday, Florida
27 May 17
@Courtlynn
i am on mine most of the time because i am pretty much stationary in my room being disabled and all


• United States
27 May 17
Yes I saw all the Bloodlines until the new one..so I better get watching it soon..hope I can have time to Brandy.


• Holiday, Florida
28 May 17
it sure is an intense show. this season is even more mystery filled.

• United States
28 May 17
@bunnybon7
It sure was good the ones I saw as I said I have not yet seen the new season yet. It was full of mystery yes.


• Holiday, Florida
28 May 17


• Charlotte, North Carolina
1 Jun 17
Glad you have a space you are comfortable with
@bunnybon7
to work or enjoy some TV viewing!

• Holiday, Florida
1 Jun 17
actually this is all in my room. as crowded as the house is right now, i would be on my bed for using my computer while watching tv. all in my bedroom. now i have this chair in here with a small table to do do the same except i am not leaning so much on my bad shoulder while typing. i am sitting up more

• Charlotte, North Carolina
1 Jun 17
@bunnybon7
Sitting up is probably a healthier choice for most of us.

• Holiday, Florida
2 Jun 17
@PatZAnthony
i hope so even though my back hurts after a bit and i have to stop a while because i can't even prop my left arm as i type

• United States
28 May 17
I did abandon FB years ago. Too much drama and too much politics for me. Life is nicer for me without FB. I have tried the fruit medleys and they are really good. I have never watched Bloodline, however. I use a laptop so it is either with me in the family room or living room.

• Holiday, Florida
28 May 17
i have a laptop but my lap doesn't seem to be a good place to set it. lol


• Holiday, Florida
28 May 17
i would but bending over that much soon hurts my back. and if i lay i end up on the shoulder that hurts cause i have to type with my right hand

• United States
28 May 17
I admit I get very annoyed when people across oceans start telling us what's wrong with our country. Especially when so many have government run media! They aren't even getting the real news. Others think they know better, but unless you live here, you really don't fully understand. I'm okay with questions, and reasonable opinions and disagreements, but would they like me telling them how their country should be run? And Lord knows how many times we are targeted by terrorists simply because we are "America". Sadly, other countries are getting a feel for that too. I have not seen Bloodline. I'm trying to stick to comedy. Have you seen UnBreakable Kimmy Shmidt on Netflix? I think that's the name. I saw one episode, and it was hilarious.

• Holiday, Florida
28 May 17
yes i have. it is another one i have been catching up on . it is very funny

• Mauritius
28 May 17
I am sure the tv series will keep you occupied and you will not feel too lonely. I stopped going to FB that much when I started mylotting. It is better to be here rather than be on facebook and here people complaining. I don't really have on office. Sometimes I use my laptop in my room at times some other room. Just to say that I move around with the laptop

• Holiday, Florida
1 Jun 17
that is what i would do if house was bigger and i could move around as well. i know i too prefer being here then on FB

• Singapore
27 May 17
I wonder who's that person that was blocked by you.

Have a good day too


!

• Holiday, Florida
28 May 17
all the many years i have been here i have only blocked 2 people out of all my many friends here. i don't like doing it but if a person persists in aggravating i will.