Cornflakes and its benefits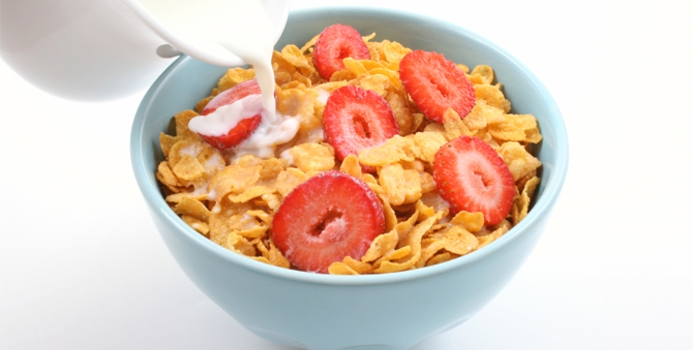 Hyderabad, India
May 31, 2017 6:04am CST
We all should necessarily have a healthy breakfast. The conventional way of taking meals in the morning is totally absent nowadays due to the busy office work and the increasing number of office goers in a house necessitating to go for a healthy breakfast that provides all the nutrients needed for the body. The breakfast should now include all the nutrients and should have low fat, low salt, and low cholesterol, and the answer can best be found in preferring Cornflakes for the breakfast, a cereal which offers an easy utilization of minerals, Vitamins, and other nutrients. There are varieties of cornflakes available in the market and the choice is offers to choose the best suitable for us among the following Cornflakes with milk: These are good for protecting against infections as they are protein rich. Honey Cornflakes: These are the choice of many kids. These are rich in all vitamins including Vitamin B6 and Vitamin B12. Almond Cornflakes: Almond is good for nerves. They improve the health of lungs and protect from lung cancer. Improves mental strength, skin texture, and also good for hair. Hair these can be preferred at all times by elders and ladies. Though there are other types like carotenoid corn flakes, frosted cornflake, dry fruit cornflake they are preferred by a lesser number of people as per their preferences.
6 responses


• United States
31 May 17
I have not had cornflakes for many years. When I was a kid, I would eat them straight from the box no milk and loved them. You have reminded me to get a box of these.




• South Africa
31 May 17
Used to eat it as a child. Now prefer oats with nuts and fruit.



• Hyderabad, India
31 May 17
Age might have changed the foodstuff

• Malaysia
1 Jun 17
I always have plain cornflakes without adding anything into it since I was young, as I didn't like milk. My kids also enjoy just eating the cornflakes plain, and it's like snack for them.


• Johannesburg, South Africa
31 May 17
@shivamani10
, I have to eat bran flakes, but they are not so tasty, corn flakes are a delicious breakfast. :)