Why Steal Now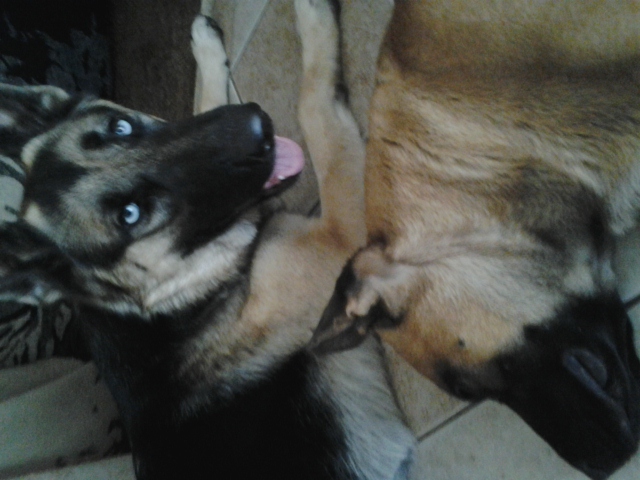 Redlands, California
June 2, 2017 11:58am CST
It never fails, right before I go to lay my weary head down, the 2 butt-heads steal my bed and go to sleep. I go to bed pretty late, and they have not been down in my room all night. They wanted to sleep in my bed after they left me all lonesome the whole night.

Sorry ladies, you had another thing coming. Well, not really, Kai usually leaves as soon as I hop in bed. She is just to big and cannot get comfortable with me and Brooklyn in the bed also. Plus, it is really to hot for her this time of year. Brooklyn on the other hand was not moving. She is half the size of Kai, but does not share for anything. Hogs the covers, hogs up all the space with her upside down cockroach, dead dog type of deal she does. That is OK, because I get her back in my sleep. Yes, somehow I manage to fall asleep with Brooklyn's rude ways. I do all kinds of crazy things in my sleep, talk, walk, and kick. I can always tell when I was moving around because she is never there when I wake up. That is not uncommon if someone else is up, but everyone was still asleep when I woke up this morning. I hope I kicked her in the head a couple of good times for being an inconsiderate brat. I am evil I tell you.

8 responses


• Redlands, California
2 Jun
I hear you, get used to it after a while and they usually sleep on the floor in the summertime. The winter is good because they keep you warm and we never run the heat.

• United States
2 Jun
Ms.Ruby could care less in sleeping in our bed.She will come up.Licking and then she get bored leave it.No trouble with her

• Redlands, California
2 Jun
Lucky you, that is what Kai likes to do also. Licks you in the face, then takes off.

• United States
2 Jun

• United States
2 Jun
Brooklyn really does work hard to get what she wants. I bet all your sleeping gyrations and talking did cause Brooklyn to vacate the bed.

• Redlands, California
2 Jun
She does work very hard, and I bet you it was because when she sleeps, she sleeps heavy. She is also a very moody sleeper, like me. She gets mad when you interrupt her beauty sleep. I just wish I could have seen her pouty face leaving.


• United States
2 Jun

• Redlands, California
2 Jun
@Corbin5
You be

too.


• Banks, Oregon
2 Jun
Rooger luckily mostly sleeps on his own couch. Ghost often sleeps by me though.

• Redlands, California
2 Jun
I have a couch and Brooklyn used to sleep on that, but think it is to hot for her now. Plus I moved it to the corner and no one puts baby in the corner.


• Colorado Springs, Colorado
2 Jun

• Redlands, California
2 Jun
Indeed, dogs are like 5 year old kids I tell you.

• United States
3 Jun
They are precious..you on the other hand...like me hahahaha Eeeevvvviiill..I am not to be slept with.