Is it Necessary?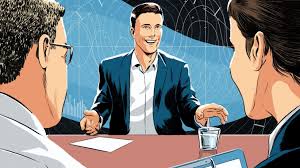 India
June 3, 2017 11:37am CST
I saw in many companies, it is necesary to have formal dress and shoes in every interview. Once you are selected in company, it may or may not compulsary to wear formals in some comapnies. Some companies reject us due to not having formals. Some companies not allow us for interview of we are not in formal dress. Do you know reason for this? Is there any logic behind having formals for interview?
3 responses

• Philippines
1 Jul 17
What do you think? I cant think one.

• India
2 Jul 17
What you want to say exactly? Lol


• Philippines
2 Jul 17
@PBKING
what do you think is the reason? Hahah

• India
2 Jul 17
@Elisa1234
i don't know the actual reason.. I think it's just a formality



• United States
3 Jun 17
Our son always arrived for an interview in a suit and tie, not because he was told to do so, just because of the importance of an interview. I wish he wore a suit to work every day since he is a marketing executive, and because I bought him so many suits when he received his MBA, but most offices these days have all dressing quite casual.

• India
3 Jun 17
Yeah that's what i am thinking. I also used to wear formals and sometimes suit because of importance of interview but i think there should be logic behind this.

• United States
3 Jun 17
@PBKING
I know. Sometimes our son was told when he showed up in a suit, "You will not have to wear a suit here." Maybe sometimes he thought he was overdressed. I agree that a company should give some guidance as to what to wear to an interview.

•
14 Mar
It is more professional to dress in nice clothes. Yes, a person looks more professional if they dress up fr an interview and not wear sloppy clothes.