Obituary for My Baby Doctor : Dr. Roz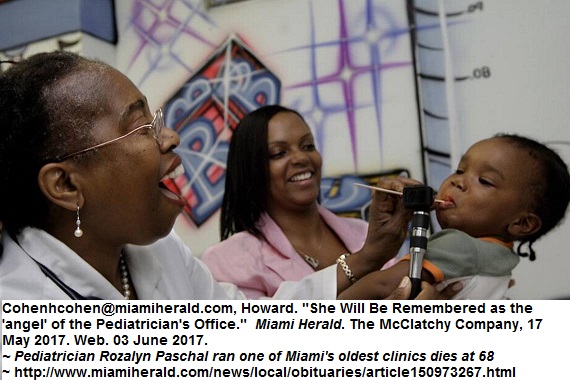 Austin, Texas
June 3, 2017 5:58pm CST
Our family left Miami, Florida at the end of 1986 and we never returned. My husband and I started our family with our first child being born in 1977. For me, there was never a question of which baby doctor to take my children to for check ups, immunizations, infections, illness, etc. There was a lady doctor in our community everybody loved and respected. Her name was Dr. Dazelle Simpson. If she was not available to tend to my children, there was always Dr. Rozalyn Paschal. Dr. Simpson was older and more experienced. Dr. Paschal was a young doctor being mentored by Dr. Simpson and she proved herself to be just as competent and capable. I stumbled across her obituary today. She passed away at the age of 68. My first thought upon seeing the article was disbelief. ~ Let me check to be sure this is who I think it is. Once I confirmed it was indeed the same young doctor who had treated my babies, my second thought was: ~ If she is no longer with us, what has become of Dr. Simpson? There was a wonderful write-up about Dr. Paschal in the Miami Herald, discussing her 40-year career as a pediatrician in Liberty City, Florida and her service to the community. Included in the write-up were words of praise and commendation from dear sweet Dr. Simpson, who is now 92 years old.

I have so much love, honor and respect for these two women. I really can't find any words that would truly reflect my deep admiration for both of them. It's a small tribute, but I thought it fitting to publish this post to mark their place on the pages of the history of my life. Reference: Cohen, Howard : hcohen@miamiherald.com.
"She Will Be Remembered as the 'angel' of the Pediatrician's Office."
Miami Herald.
The McClatchy Company, 17 May 2017. Web. 03 June 2017.
Obituary: Pediatrician Rozalyn Paschal ran one of Miami's oldest clinics dies at 68.

Dr. Rozalyn Paschal owned three pediatric practices in Miami-Dade and Broward. The Liberty City clinic, founded by colleague and friend Dr. Dazelle Simpson in 1953, is one of the oldest in South Florida.
2 responses


• Austin, Texas
4 Jun
I have to say such thoughts do cross my mind. Shouldn't we all be living longer? There are so many advances in medical science. But we don't all have the same physical make-up, genetic make-up, drive and mental will to live, etc. Most people in my family don't make it to 80.



• Austin, Texas
6 Jun
It was the only way for me to pay my respects.