Good Morning.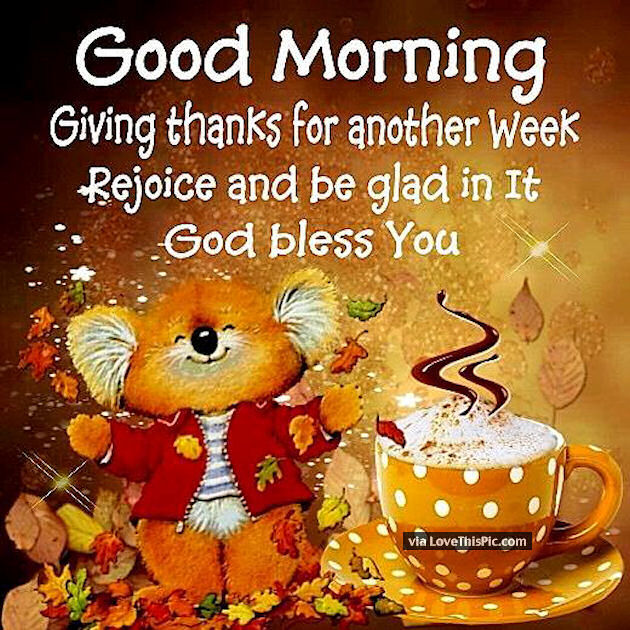 United States
June 5, 2017 9:07am CST
Hello everyone. Here we are another work week to begin. So far it's a gloomy Monday supposed to rain and thunderstorm today so not going to be good weather wise today. Hopefully that means it will be cooler in my office and not so hot. I feel nice and refreshed today. I've taken my sleeping pill all weekend and i have noticed a difference that I don't feel like napping during the day like i did before. My energy level is slowly coming back as well. So hopefully that means it's working and my sleeping schedule will get back to normal. Anyways, working today 1130-8pm then I will come home & relax. I'm going to continue watching orange is the new black. Right now i'm on Season 1 episode 7 so i don't think i'll be finished to watch the new episode this weekend but I can watch it at anytime. Then maybe I'll read my book a bit as well. So I bid you all a great Monday & hope work goes well for those that have to work today. Photo Credit: lovethispic.com
7 responses

• United States
5 Jun 17
Glad the pill is working. I was on thrm back in 5th grade.. have a good day

• United States
5 Jun 17
@courtlynn
thanks this is the first time i have ever taken a sleeping pill. I wish i could've gotten it long ago when i first started having sleeping issues.

• India
5 Jun 17
Monday was not so good for me. Hope it will be on Tuesday. Have a great day

• United States
6 Jun 17
@prashu228
I hope your Tuesday will be better than your monday.


• United States
6 Jun 17

• United States
5 Jun 17
So glad you have some weather that may cool things off a bit. Good to know that you are adjusting to the medication, which does take time.

• United States
6 Jun 17
@corbin5
Yeah it does take time but for now it's working. Normally i'm exhausted when i get home from work but not so much tonight. I do have a headache though

• Hyderabad, India
5 Jun 17
oh..very tired of this site. I am safe now. Hope to get some from this site. Sleeping really gives a lot of relief., One should not miss it if one gets it free of cost without any meds.

• United States
6 Jun 17
@shivamani10
I've had insomnia for years i just recently got diagnosed with it. I finally got on a medication that is cheap with my insurance. So far it is working and my energy level is back.

• Jacksonville, Florida
5 Jun 17
I hope you have a great day. =) I'm glad your having more energy too, that's good!

• United States
5 Jun 17

• Los Angeles, California
5 Jun 17
Try to have an easy first workday of the week.

• United States
5 Jun 17
@johnroberts
Monday's are always busy as it's mail day from the weekend.