How do you prefere breakfast? Cold or warm?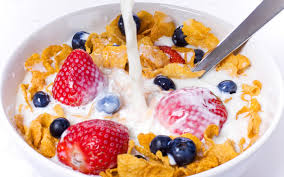 10 responses


•
7 Jun 17
Thanks for help. I'm learning . But that phrase, i didn't what to be mean or missinterpreted

• Uzbekistan
7 Jun 17
@AliveSpirit
Mean? Misinterpreted? Which phrase do you mean? I don't understand what you've written.


• Venezuela
7 Jun 17
Oh, this is kind of little sad because my country is a mess right now, in every aspect. Here we have our traditional Arepa, it's made with cornmeal, but right now it's kind of hard to find or just buy it, because of its price. Responding your question, I can eat cold or hot food on my breakfast :) and you?

•
7 Jun 17
I prefere warm tea and biscuits . I will search for Arepa

• Venezuela
7 Jun 17
@AliveSpirit
I love it, but I love to take tea by nights. My favorite thing for breakfast it's cereal, I will never be bored of that


• Jacksonville, Florida
7 Jun 17
I like both-hot and cold, just depends on my mood each day. =)

•
30 Apr
@AliveSpirit
I eat what I want for breakfast not sure if traditional or not.


•
8 Jun 17
I live in South India and here our breakfast is idli, dosa. Have you heard about it. It tastes good when it is hot and with some chutney as side dish. These are recipes with rice flour. Tastes very good...

• India
8 Jun 17
I like to have warm breakfast always. But unfortunately I find it difficult to have breakfast because of heavy work .

• Philippines
8 Jun 17
We have the simplest breakfast in the world: dried fish, egg and coffee. Sometimes we do fried rice and instant noodles.

• United States
7 Jun 17
It all depends on what I want when I get up. Sometimes it is just cereal other it is eggs, and if my dad gets up and cooks we have eggs, bacon, sausage, or sometimes waffles or pancakes with some kind of meat.