Can you do this?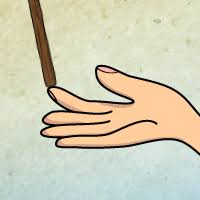 India
June 12, 2017 7:33am CST
Yeah i have made my self record today of balancing the stick on my finger for 1:45 hours

I am very happy today but sad also because no one has recorded this in camera.

I decided to make video of my own to capture this record. I was trying this from last 1 year and now i'm very close to my target of 2 hours.

Have you tried this ever? Is there anyone who wants to break my record?

Have you done any other records like this?

6 responses

• Philippines
1 Jul 17
That's awesome my friend! I can't do that


• India
2 Jul 17
Don't worry i will teach you that... I am thinking to start training centre for it...lol


• Philippines
2 Jul 17
@PBKING
Haha I hope your training is just for free! No payment! I would love to learn it


• India
2 Jul 17
@Elisa1234
haha no payment...free for you as you are the first to join the class




• India
12 Jun 17
that long is too good.


• India
12 Jun 17
Thanks
@shaynas
I am trying to break my own record always. I have no idea if there is record better than me. Have you done anything like that?

• India
12 Jun 17
@shaynas
I think everyone has the ability to make at least one record. What do you like most? I mean what are your hobbies? You can make record in any one of your hobby.




• India
12 Jun 17
Thanks
@Nawsheen
.

I always try to break my own records


• India
13 Jun 17
@Nawsheen
yeah they want to do it but they can't stay for more than 5-10 minutes




• India
17 Jun 17
Yeah sure
@ShifaLk
. Next time I will upload it on youtube also




• India
12 Jun 17
Thank you very much
@vsai2008

I still want to make record of 5 hours, but i think it may need to balance ourself also. I think i can do it as i have done this record with standing on the same position.


• India
12 Jun 17
@vsai2008
yeah...recording camera is must for my next record...


• Nairobi, Kenya
12 Jun 17
That is amazing!That is how people get into the Guinness book of record.



• India
12 Jun 17
Thanks
@EMuhungi
. Can we make this as a record in Guinness book?