Gratitude Challenge Day #880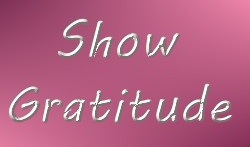 United States
June 12, 2017 10:44pm CST
Hello there, everyone. I'm in the middle of my writing orders, so I'm just going to get the Gratitude Challenge for today posted.... 1. I got a new phone the other day, not necessarily by choice, but I do like it so far. I just need to get used to it. 2. I saw my family and friends on Friday and Saturday, and I had a lazy day on Sunday. 3. I went to bed earlier than I have been last night, and I got up at a decent time today. 4. I'm doing good with my writing today. A little distracted, but still productive, and I'll try to do better tomorrow. 5. Watching WWE Raw tonight, especially the Hardy Boyz lol. Alrighty, I wanna finish my work and get to bed at a decent time, so I can get started on my work earlier than usual tomorrow (and maybe this time I'll finish before wrestling comes on). You all have a good night/morning and take care. Photo Credit: I made this graphic using PhotoImpact 6.
5 responses

• United States
13 Jun 17
Yay wwe and hardyz! Have a good night Tam. Love ya

• Ringgold, Virginia
13 Jun 17
It can be tough to write with distractions, but glad to hear you had a productive day.


• Hong Kong
13 Jun 17
That's great and there's so many things you need to be grateful about.


• United States
13 Jun 17