Public Vehicles, Travelling At Night without, head and tail lights?!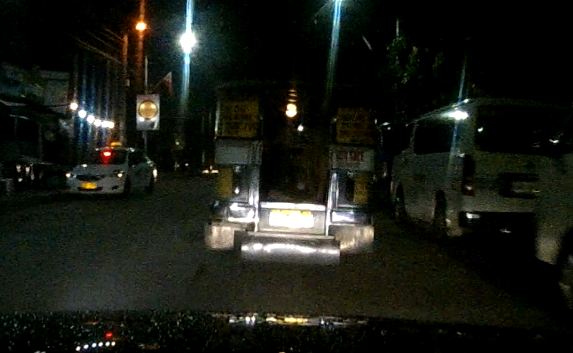 Philippines
June 13, 2017 4:37pm CST
We all know that if we say "Public Vehicles" this vehicles is full of passengers. It's just sad to see that this type of Public Vehicles are always on risks due to vehicle or driver problem. Example the vehicle on the image, It was roaming around, with passengers without headlight and taillights! I wish they can do something, because this can cause of trouble to passengers.
5 responses

• Philippines
16 Jun 17
And what are those authorities from there doing? Oh well, they never get to see that because they are just there during daytime, hiding so the sun will not hit them. he he he

• Philippines
19 Jun 17
@SIMPLYD
Here's the thing, if public vehicles caught doing illegal things, they ignore, but they caught "Private" vehicles, they will catch and ask for money, because they can't ask money on public vehicles, since they know that they don't have money.. Well! Crap!

• Philippines
20 Jun 17
@tech40
This is a sad situation that always happens indeed. Well, at least the private cars can afford the fee though if the driver is just an employee of the owner, that's another story.

• United States
13 Jun 17
That's not good I wonder if they noticed Did you honk!

• Philippines
13 Jun 17
@infatuatedbby
Yeah I opened my side mirror, and told them to open their head and tail lights, and they just replied "It's not working" oh my god! .

• United States
13 Jun 17
@tech40
oh wow They should get it fixed ... that is not safe at all. If they forgot then that's an accident but knowingly drive without lights horrible at least flash some flash light or something in the car

• Philippines
13 Jun 17
@infatuatedbby
Yeah I agree, they should fix it in morning when they're free, instead of driving dangerously, in the same time they should think for his "Passengers"


• Philippines
13 Jun 17
This jeepney should have been caught and the driver's licensed confiscated. I always get annoyed when this kind of violations are let off by the authorities.

• Philippines
15 Jun 17
@toniganzon
There are times that this type of vehicle passed police station without getting caught, or.. police station are just ignoring them.. or? Police got paid!?.. what kind of people are these -_- risking passengers life just to earn money? instead of fixing the problem for there safety? grr

• Philippines
15 Jun 17
@tech40
a traffic police are supposed to be roaming everywhere. That's what's going on in the city I live in. Even with the speed limit, we are very strict these days.

• Philippines
15 Jun 17
@toniganzon
Yup they're roaming using there bat mobile, ops, I mean there police patrol car, But I don't know why they didn't get this type of drivers..



• Toccoa, Georgia
20 Jun 17
Where I live, it is a law to have your car headlights on at night, otherwise if a cop sees you with no lights, you will get pulled over and get a ticket.