Rating My Homemade Breakfast Sausage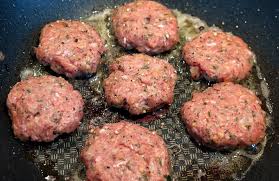 Saco, Maine
June 14, 2017 6:34am CST
Well, the verdict is in, and I am pleased to announce that the breakfast sausage I "made from scratch" the other day turned out quite well. On a scale of 1-10, I'd give it a 9, as there are a couple of things I'd change. The authentic way to make sausage is to use different cuts of pork trimmings with varying amounts of fat and put them through a meat grinder with spices and herbs. A sausage attachment allows you to pack the ground sausage meat into casings, resulting in the traditional links of which there are dozens of varieties available in stores. Not owning a grinder or wanting to process that much pork, I chose the short-cut method, which was to use plain ground pork from the meat counter. It is much less work but produces very satisfying results. I just had one of the patties on a breakfast sandwich, but broke off a tiny piece to sample just the sausage itself. When I make it again, I will reduce the amount of salt and the red pepper flakes, as I found them a bit too salty and a little too hot. If I can remember to buy some, I'll also try adding fennel next time, as it's one of my favorite flavors in sausages. The recipe called for oregano, which I didn't have on hand. But I wonder if it might make the sausage too "Italian," which I don't want in a breakfast product. Another point to consider is this: unlike some precooked sausages, these patties take longer to cook through, as they are made of raw pork. But all things considered, I will definitely be making this again!

Note: I can't share the recipe I used here, but it's simply a matter of doing a search for "Homemade Breakfast Sausage," and you'll find a large assortment of them to try. Also, the photo isn't mine. But that is exactly what the patties look like before cooking them, and they shrink down by about half to fit an English muffin perfectly. (Public Domain Image)
9 responses

• Boise, Idaho
14 Jun 17
I like pork sausage. Actually most anything pork.

• Saco, Maine
14 Jun 17
So do I. And this was worth the effort to make.

• Boise, Idaho
14 Jun 17
@Raelove
.......Sounds like it was delicious.


• Saco, Maine
14 Jun 17
You're right. I didn't have sage, but I had thyme, which is close, so it did the trick. I must remember to buy some sage.

• Summerville, South Carolina
14 Jun 17
If I had a meat grinder I would definitely try it. The store bought is too fatty and too salty.

• Saco, Maine
15 Jun 17
I didn't grind my own meat. I used plain ground pork from the supermarket. It's not very greasy, and I generally make meatballs with it. I wanted to try something different, and glad I did. They're good.

• Summerville, South Carolina
15 Jun 17
@Raelove
I use ground pork a lot. I never thought to use it to make breakfast sausage. Thanks for the tip. I'm going to try it.


• Saco, Maine
19 Jun 17
They are filling, as most proteins are. I usually have salad for lunch anyway, so I don't overload myself.

• United States
14 Jun 17
I've made sausage using ground turkey, sausage seasoning, and a little olive oil. They were ok, but I think I'll add in a little regular sausage. Yours sound good.

• Saco, Maine
14 Jun 17
I like ground turkey and use it a lot. It makes a great meatloaf. But I find it a bit too bland for other things. It WAS good, Vicki.


• Saco, Maine
14 Jun 17
Casings are a lot of work, so it's easier to buy the premade links. But for patties, this worked very well.


• Dallas, Texas
20 Jun 17
Do you post on Pinterest?

• Saco, Maine
21 Jun 17
No, I don't care for Pinterest. It's too time-consuming for my tastes. But thanks for asking...