Daily Bible Study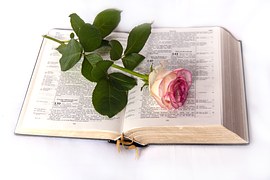 Green Bay, Wisconsin
June 16, 2017 10:16am CST
Day 280 Proverbs 27:11 Proverbs 27:11 My son, be wise, and make my heart glad, that I may answer him that reproaches me. Everyone wants well-behaved children. They do not want to worry about someone, including police officers, coming to their door with accusations about what their child did. Solomon said those children made a father's heart glad, and he had no worries about his child's behavior. In the account of Cain and Abel, God asked Cain why he was angry and sin lay at his door. When Cain killed his brother, God asked him what he did, and Cain's answer was: Am I my brother's keeper? Genesis 4:10 And he said, What hast thou done? the voice of thy brother's blood cries unto me from the ground. 11 And now art thou cursed from the earth, which hath opened her mouth to receive thy brother's blood from thy hand; 12 When thou till the ground, it shall not henceforth yield unto thee her strength; a fugitive and a vagabond shalt thou be in the earth. 13 And Cain said unto the LORD, My punishment is greater than I can bear. 14 Behold, thou hast driven me out this day from the face of the earth; and from thy face shall I be hid; and I shall be a fugitive and a vagabond in the earth; and it shall come to pass, that every one that finds me shall slay me. 15 And the LORD said unto him, Therefore whosoever slays Cain, vengeance shall be taken on him sevenfold. And the LORD set a mark upon Cain, lest any finding him should kill him. As a loving Father, who knew the sin and failings of Cain, he also had mercy on him. He made it impossible for anyone who saw Cain to exact vengeance on him. Though as parents, our hearts yield to our children when they misbehave, we still need to have mercy on them, just as God had on Abel. Children usually won't go as far as murder, but even if they do, as the newspapers show almost daily with children involved in various crimes including murder, parents are to be as forgiving as God. God sent Cain away from his family, but he did not kill him. Solomon said a child who behaved made his father's heart glad. When you behave, you make your Father's heart glad. You might not be a child any longer, but you are in God's eyes. Let no reproach come against you. Consider what Paul wrote to the Philippian church. Philippian 4:8 Finally, brethren, whatsoever things are true, whatsoever things are honest, whatsoever things are just, whatsoever things are pure, whatsoever things are lovely, whatsoever things are of good report; if there be any virtue, and if there be any praise, think on these things. (KJV) These are the things that makes a father's heart glad. Let's pray: Father, help me make your heart glad. Let my words and actions be guided by your love for me so I might be a blessing to those around me and receive favor from you. In Jesus' name, I pray, amen. Copyright © 16 June 2017 by Valerie Routhieaux Image courtesy of Pixabay
6 responses


• United States
16 Jun 17
Great post and reminder. Have a blessed day

• Green Bay, Wisconsin
16 Jun 17

• United States
18 Jun 17
I commend you for your unflinching faith and devotion to Almighty God
@just4him

• Green Bay, Wisconsin
19 Jun 17
Thank you. I would be nothing without God in my life.

• United States
19 Jun 17
@just4him
Your devotion and faith will certainly pay off. GOD BLESS!

• Green Bay, Wisconsin
20 Jun 17


• United States
18 Jun 17
Sometimes the best thing you can do is to just be still.

• Green Bay, Wisconsin
19 Jun 17

• Roseburg, Oregon
16 Jun 17
Your children will never be perfect and God knew that when he saw what happened between Cain and Abel.. All you can do is make the eighteen years the best you can.


• Green Bay, Wisconsin
16 Jun 17
Yes they would and I've seen lots of examples of bad parenting skills in children in stores, especially Wal-Mart. The worst I encountered was when I worked in the bakery department of a grocery store. The child was a teenager and threw a huge tantrum because her mother said 'no' to the free cookie sample. Because of the tantrum her mother gave in. I can understand a two year old throwing a tantrum, but a teenager? That was unbelievable to give in to that.