A dinner with my neighbors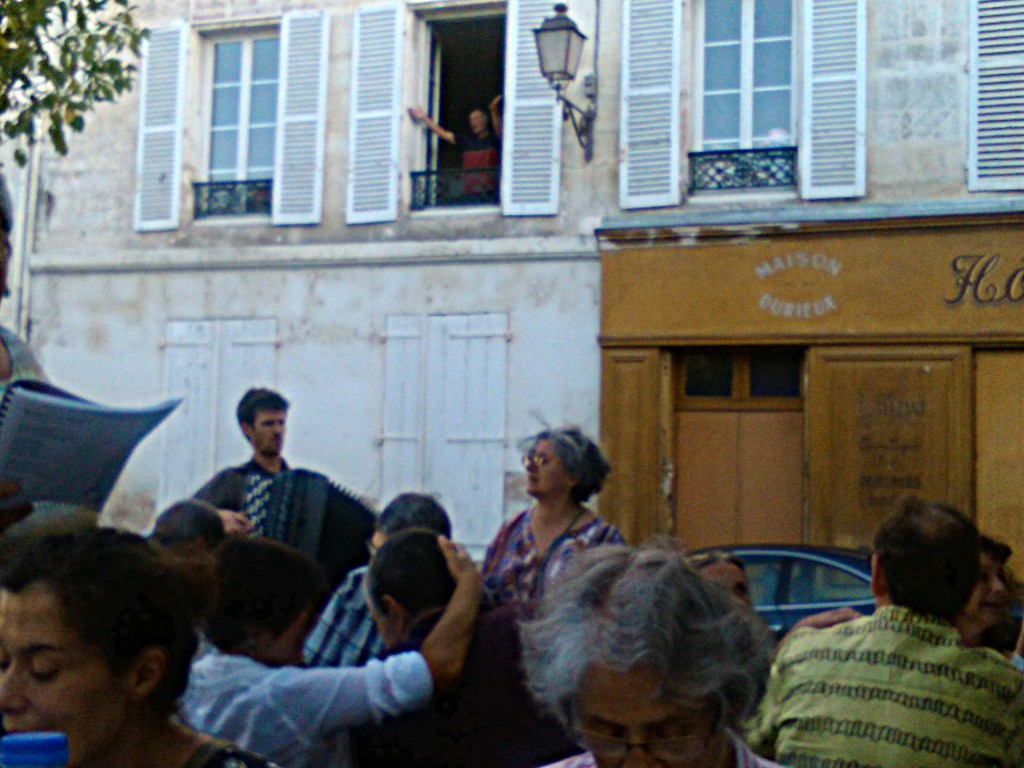 Singapore, Singapore
June 17, 2017 4:35pm CST
Yesterday night was organized the «dinner of the neighborhood». My pharmacist encouraged me to go there. The menu was announcing a spit-roast suckling pig, and it blocked me a bit because it was eliminating the Muslims and the Jews of the neighborhood, but at 15 Euros it was cheap, and I paid a ticket. As I promised to do a report of this dinner on myLot, I bought especially for it a new black shirt with a yellow «NIT» New Internet Technology logo. I have not streamed the event online, maybe next year

. The first person I saw there that I was knowing was an alien to this neighborhood, although he is living not far, at the feet of the ramparts. I met him long ago in the archives of the city where he was collecting some material for an historical book to fill his retirement time. He was an inspector of Finance. He was coming back from holidays and was tanned like Donald Trump yesterday. He has all his hair, walks faster than me, has a lot of humor and is... 93 years old now

. He decided to become my mentor and accompanied me to a table where I would get a welcome drink against half of my ticket. He was knowing a lot of people, introduced me to a few, and I opted for a Ricard, an aniseed alcohol. When we came back to the table where he was, a woman was sat near him. He started to drop the rest of his drink on the table and to tell a few bad jokes, and the woman decided to find another seat. I said «She fled.» «Yes, she does not appreciate us at our right value.

» Then came a family with a 7 or 8 years old kid. I did not intended to dine near a kid, he started to tease him, I added a few remarks, and they went away. At this moment, I told him that if we were continuing, we would do this neighbor's dinner without any neighbor around

. He said : «I am going to see if I can catch somebody interesting», went away and came back with a youngster in her early 80's that he introduced me like MISS X, the previous owner of the pharmacy down my street. As he was insisting to call her MISS and to accentuate on the word, I thought that she would not stay more longer than the others, but the damsel was smart and teased him back. Then came a team working in an estate agency of the neighborhood to complete the table. There were about 300 persons at this dinner, and my two old neighbors were knowing quite everybody, I learned a few interesting things, the weirdest being that the owner of the bar at a corner of the square where we were was also the titular organist of two churches

. The menu by itself was not that good. We have had some mixed vegetables with pastas and some coleslaw for entrée, then came the roast suckling pig (they were roasting on a corner of the street) that would have been better if they had not forgotten the salt, served with some stuff and beans, and followed by cheese and an eskimo ice cream. You will difficultly believe it, but the apéritif was scheduled at 7 pm, and the dessert has been served after 11 pm. In France we like to spend a lot of time around a table to chat, but it was a bit too much

. The wine was not included but the retired inspector insisted to offer us a bottle. He bought a red bordeaux wine which was a bit young but good. The epic moment came when the mayor, who was there, wearing a jean and a white shirt with a pair of sun glasses picked at the top of his shirt, started to turn around each table to shake the hand of the 300 electors present at this dinner. This city has the particularity to swing from the right to the left, and from the left to the right at each election, like the pendulum of a clock : not a mayor has been elected twice in a row in the past 2 centuries. 2 have been re-elected when the pendulum swinged again though, and it is not bad, it gives them a bit of hope for the future

. The previous one was a socialist, this one is a republican. We had the first tour of our general election last week (the second is for tomorrow), and the candidate of the new party of our new president Macron ended first with more than 20 points ahead the second who is a far-left candidate. This area will elect a far-right or far-left deputy soon after the Pope will have created a center for Marxist studies in Vatican City, so I have decided to not vote tomorrow. The republican candidate was third with less than 12% of the votes. The next local election is only for 2020, so maybe that if he shakes many hands before 2020 he will improve the score

... People were joking and teasing him, and he was taking it with humor. When he came at us, our evil inspector took his hand in his two hands and shook it 10 times while saying something stupid, and when he stretched his hand towards me I shook it and said «You seem to know a lot of people, Sir ?» The inspector did not understood the irony, and said «He is the mayor» before he could respond. «He is the mayor ? You are joking, he does not wear a suit and a tie ! Are you the mayor ?» He looked at me, perplexed, and confirmed that he was the mayor, so I told him that I was glad to meet him, and said to my neighbor «It is your fault, you told him something stupid, I could not believe that he was the mayor.» «I would have never told something stupid to the mayor.» «You did.»... The pharmacist was doing her best to not laugh. The mayor looked at us weirdly and went to the next table. I suspect that before 2020 I will have several other occasions to shake his hand. Next time I will encourage him

. Oh ! I was forgetting it ! We had also an accordionist and a few singers to encourage us to sing. I sing like a goat, but my two old neighbors had spent many years in various choral societies, and they sang loudly. I post a picture. There is a piece of the yellow facade of a shop looking typically like a shop facade from the end of the 19th C, but I learned from them that it was a movie set, and was never removed after the movie

. I went back to home soon before midnight, and I can tell that I spent a good evening. This was my complete news report for yesterday evening. Hope you enjoyed it. More reports soon.
6 responses

• Ireland
18 Jun 17
@topffer
I have enjoyed a few communal meals in France - the conversation was always better than the food!!

• Singapore, Singapore
18 Jun 17
I was not expecting a top quality meal for 15 euros. You can ask yourself how the caterer who prepared it and sent 2 cooks to cook the pigs and cut the meat can have done a profit... Our regional association of archeologists has an annual general meeting in a different city every year. Archeologists are liking good food, and during years we have managed to have correct meals paid 15 Euros by our members by asking to the cities where we were going to offer the apéritif and petits-fours and to provide an indirect subsidy by offering a place for the meeting ; the saving on the rent of the place was well employed to pay a part of the caterer or restaurant bill

. The 15 Euros meal was a 25 or 30 Euros meal, and we had just to listen and applaud to a few speeches to express the gratitude of our stomach for that. Since 3 or 4 years, all cities are making cuts on overhead costs, the culture administration and museums have their budgets lowered every year, and we are now happy to get a low quality free apéritif, although the number and length of the speeches have not decreased

. The meal is also now "free", i.e. everybody goes in the restaurant of his choice and pays for it...




• Singapore, Singapore
18 Jun 17
@pgntwo
I suppose it was a local initiative from the French community there

. French are drinking a lot of whisky and we could have a whisky for apéritif yesterday. The brand was J&B, not too bad, but I am picky on whisky and this one is not for me

. What is good with a Ricard, is that it always tastes the same

.



• Singapore, Singapore
18 Jun 17
He was terrible, and it is difficult to tell something to a 93 years old who acts like a 20 years old hooligan

. People not knowing him would not think that he was once a senior official. He is in full form and still drives his car

. I do not know the face of the drummer, so I cannot tell. He played a few minutes last night

. I have a chance to identify him for the Music Festival on Wednesday

.


•
19 Jun 17
Thanks for this 'report'. Can't bear the thought of any roast pig dish without salt, ugh moment! That photo was so like a scene in an European movie.

• Singapore, Singapore
19 Jun 17
I had only my phone with me, and it does not do good pictures when the night falls. I did not knew that this facade of a hotel had been made for a movie. It looks authentic, expect maybe the color

. Without this fake facade the rest is authentically European

.

• Pamplona, Spain
22 Jun 17
I have enjoyed reading this thank you what a wonderful man of 93 and have loved all the other characers also. You must have had a really good night though from what it seems.