Do you beat kids?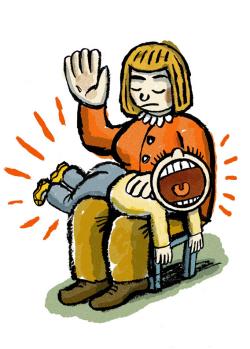 India
June 19, 2017 8:49am CST
I'm not sure if hittting kids is necessary to mould them correctly. My mom always beats us when we were kids and still believes. My kids are 4 years old and never obey us until we scare them with a stick though I don't beat them as such. But by the time I make them do something, my heart almost pops out. I have tried timeout methods too but it doesn't work always. So is beating a better way?
10 responses

• India
19 Jun
Nope it's not but you know In India beating works Everytime lol

• India
20 Jun
@jaiho2009
lol yeah. Many used to get so much beating from parents, teachers lol. What about in your place ?

• Philippines
20 Jun
@HAPPSINGH
some parents do beat their kids too, but once a neighbor or somebody reported the incident to the nearest authorities- that parent will surely be busted. In school, physical hitting is strictly now allowed.


• Beaconsfield, Quebec
19 Jun
Honestly, I don't think that beating is the best solution. I have kids too, 5 1/2, 4, and 2 1/2. Yes, they will misbehave, but beating them has never been a good solution, in my opinion. I don't think they learn anything from it. It's better to just try and talk to them. It's not always easy, but eventually we do get through to them. This is what works for us. But each child is different. Maybe you can try and find a way that works for you. If timeouts don't work, then try and think of something else that may work for your kids.


• Fairfield, Texas
19 Jun
I always spanked my daughter
@berry9
. That time-out crap doesn't work. She also knew that I would spank her no matter where we were.


• United States
19 Jun
Spanking in discipline is much different than senseless beating of anyone . . . especially children but they need to be guided and I see nothing wrong with time outs, punishment and an occasional smack on the rear !

• Philippines
19 Jun
Not all the time. I understand raising kids is not easy and some times we need to hit them to scare or to teach them. As a parent ,it hurt us more each time we hit or beat our kids, but it doesn't stop them for being stubborn, kids are kids anyway. I don't beat my kids when they were small, I hit them though with a slipper or soft things. But talking to them and explaining works best.

• India
20 Jun
@jaiho2009
that's so very well said and you are experienced enough buddy

• Philippines
20 Jun
@HAPPSINGH
having 3 kids, you can tell how expert I am



• China
21 Jun
I do believe that being a parent needs too much patience. I scolded my daughters sometimes and I'm worried they would be too tame, when this came to my mind, I would encourage them, I really do not know how to be a good mother