Favorite Wrestling Super Heavyweights # 5- Yokozuna.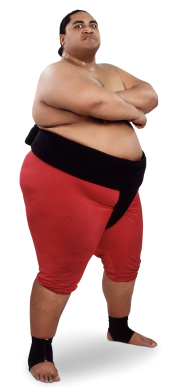 Banks, Oregon
June 20, 2017 10:27pm CST
Coming in at # 5 on my favorite wrestling super heavyweights series is the heaviest wrestler in the series, it's Big Yokozuna, the first man of Samoan decent to hold the WWE world title, at his biggest Yokozuna was about 630 pounds or more, he was also the first Samoan to win the royal rumble. Some of Yokozuna's biggest moments were beating Hulk Hogan and, Bret Hart in consecutive ppvs, he had help from a flaming camera in the Hogan match, but he still won and, few could ever do that even with cheating. Yokozuna was also managed by Mr Fuji and, is a WWE hall of famer. Some information verified at Wikipedia and, the Photo is from Wiki, it's Yokozuna.
9 responses


• Banks, Oregon
21 Jun
Good to see another fan and, yeah he was awesome.

• Colorado Springs, Colorado
21 Jun
I remember this guy. He was entertaining.

• Banks, Oregon
21 Jun
Glad to hear you remember him and, yes he was a good one.

• Roseburg, Oregon
21 Jun
630 pounds is really a heavy weigh wrestler. Thanks for sharing..

• Banks, Oregon
21 Jun
Yes, he was a huge guy and, you're welcome.

• Banks, Oregon
21 Jun
@akp100
No I think he's the heaviest ever, except maybe old Haystacks Calhoun.

• Philippines
21 Jun
I have seen wrestling super heavyweights series and I like it. However, after sometime there were no shows of it anymore, because the typhoon cut our cable. Now our new cable provider don't have that show.

• Banks, Oregon
21 Jun
Hope you will get to see it again at some point.

• Philippines
22 Jun

• Ponce De Leon, Florida
21 Jun
He was definitely a good one. Ive only seen a couple od matches though

• Banks, Oregon
21 Jun
Yeah, he was a powerhouse and, could move for being that big.


• United States
21 Jun
Kibda sorta remember him...

• Banks, Oregon
21 Jun
He was a good one is related to Roman Reigns.

• Bunbury, Australia
24 Jun
Wow, this is one big guy! Some of the Samoans are very big men.

• Banks, Oregon
24 Jun
Yeah, he was huge and, they do. Samoans are known as some of the toughest guys in wrestling.

• Philippines
4 Jul
His finishing move, the 'Bansai Drop', was a very effective finishing maneuver. I remember his feuds with Hogan, Bret Hart, and Lex Luger. Yokozuna even had the body slam challenge on top of a US warship.

• Banks, Oregon
4 Jul
Yes, nobody was getting up after the Bansai drop and, I remember when Lex slammed him on the US warship awesome moment.

• Philippines
8 Jul
@TRBRocks420
a lot of wrestlers tried but it was Luger who was only successful.

• Banks, Oregon
8 Jul
@allen0187
Yeah, I remember Duggan and, Crush got close, but not quite, also Macho tried.